Options for flooring materials include: hardwood floors, porcelain or ceramic tile, stone flooring, and wood laminate floors. Laminate wood flooring in kitchens are composed of several layers of engineered material sandwiched together, with a photograph of wood laminated on top. It is designed to imitate the look of real hardwood. Resisting scratches and scuffs, thanks to an internal "wear layer," so it's a good option for homeowners whose kitchens must contend with small kids, pets or heavy use.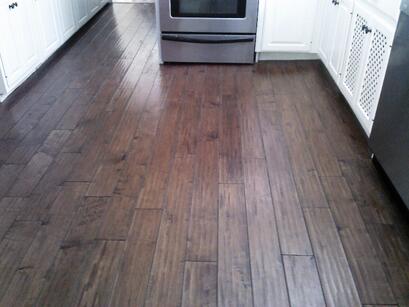 Laminate wood flooring was chosen for this project, Kitchen Remodel - Before & After #8, as the ceiling height is only 76" (6'-4"), and adding another layer of sub floor and solid wood floor would lose too much height for them.
Made out of tongue and groove planks, it is easy to install. There are easy to find "floating," or glueless, versions that make installation a breeze. The planks float over a film underlayment, providing a moisture proof vapor barrier and sound reducing properties. The underlayment may come attached to the strips of flooring, or may be a loose pad that has to be installed first. This is a very good option for basement flooring, laundry room or in a condo.
Existing baseboards (skirting boards) can be removed and then reinstalled after laying of the flooring is complete for a neater finish.
There is also laminate flooring with a tile pattern to achieve the look of tile. Benefits include having a material that is easier on your back and eliminating the weight of the tile, mastic, grout and subfloor.
PROS:
Laminate floors require very little maintenance, just sweep it and damp mop as necessary.
install over radiant heating, can only do that with solid wood if the specie is rift cut oak.
hypoallergenic
half the price as hardwood
Color match - You can predict what the wood grained laminate surface will look like once complete. This time, it will match the photograph!
You are not depleting a rain forest or harming the environment in any way. Can also qualify for green points.
Cons:
Appearance - go for the pricier selections so it doesn't look phoney. Although it may look like wood or tile from a distance, it won't substitute for the depth and texture of those substances.
Unlike wood, laminate can't be refinished — if it starts showing its age, it will need to be replaced completely.
Dents will show the underlayment through
Needs to be kept dry, water or moisture can cause the planks to swell or warp.
Avoid the glue so it doesn't emit gasses
Cost: About $2 to $4 per square foot, uninstalled.
Would this floor work for you? Not sure? Ask us! We are here to answer any questions!