The National Association of Home Builders reports that the latest round of tariffs on imported Chinese products affects $10 billion worth of products in the home building and remodeling sectors. Of specific interest to many clients who are considering remodeling their kitchen is how these tariffs will impact the cost of quartz, which is currently a top choice for countertops.
China is the leading producer of quartz in the world and many of the quartz products on the market today are likely from China, whether you realize it or not.
In addition to tariffs on all quartz materials imported from China, the U.S. Commerce Department also announced that extra duties will be imposed on quartz due to an investigation that exposed illegal "dumping" of imported quartz into the U.S.
While it's uncertain how the current trade climate may change, the increased prices don't need to hinder your plans to renovate your kitchen. There are two smart solutions to beat the rising cost and uncertain availability of quartz:
Solution 1: Choose A U.S. Manufacturer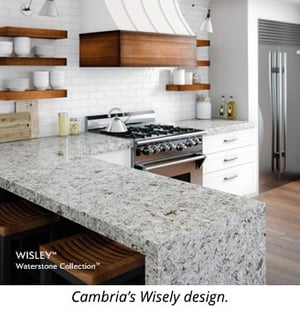 Quartz brands that will increase in price due to the tariffs and duties include Alleanza, Elements Quartz, Q-Quartz, Colorquartz, and Quartz Masters. However, these brands by no means represent the sum of all quartz materials.
For example, Cambria is a U.S. family-owned, Minnesota-based producer of natural surfaces. They have a beautiful selection of quartz designs to inspire any dream kitchen or bath, including several new sophisticated designs. Cambria has also put quite a bit of development into making quartz designs with whirls and swirls that indicate movement to mimic natural stone.
Cambria also has handy design apps to simulate how a quartz design would look alongside paint colors and cabinets.
Additionally, it's worth taking a look at quartz manufacturers that operate in countries outside of China and may not be subject to increasing tariffs. I have used Caesarstone, which is headquartered in Israel and was developed by the kibbutz as a way to replace a failing terrazzo tile industry. Caesarstone's Concetto Collection includes ten surfaces that incorporate semi-precious stones such as agate, tiger's eye, and even petrified wood.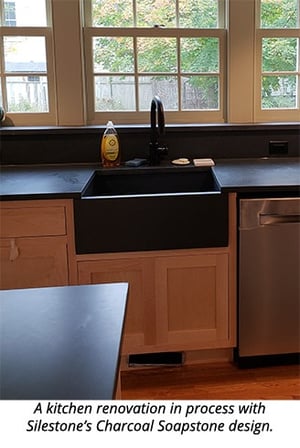 Silestone
is based in Spain and is the flagship quartz brand of the Italian company Cosentino. Silestone quartz is known for its Eternal Series that includes a color called Charcoal Soapstone, and it is amazing looking! Another attractive choice is Silestone's Bianco Calacatta, which is pictured at the top of this blog post.
Solution 2: Choose Natural Stone
While quartz has been rising in popularity for countertop choices, granite, marble and quartzite still continue to be good choices. Natural stone, with its natural movement, is timeless, and is an investment in the value of your home. Plus, you can get a lifetime sealer for your stone countertop, which cuts down on maintenance.
There are 3 types of granite surfaces:
Polished
Honed
Antiqued/leathered
Polished granite is the typical finish that you often see, and it has a shiny polish on the surface.
Honed granite is buffed on the surface to remove the shine of the polish. The muted matte finish is a great effect in a reproduction kitchen or an older home.
Antiqued finish, also referred to as a leather or brushed finish, has an uneven honed surface. It's an excellent choice for those who like the feel of texture, or who want to create a softer, relaxed welcoming effect.
The type and design of which stone would be the best choice for your kitchen depends on the color-scheme and design of your finished kitchen. We can help you with that decision!
Key Takeaway
There's no need to let the rising costs of quartz put your dream kitchen renovation on hold. For that matter, there are many fantastic alternatives for any material, quartz included, that will not be affected by the tariffs.
It's estimated that tariffs will increase the cost of other imported home renovation materials, such as some floorboards, cabinets, and mosaic tiles. But there are always American-made products or other options for materials that are equally as attractive and as cost-effective as any imported product.
If you'd like to discuss ideas and options for renovating or building your dream kitchen, come talk to us! Edesia is a Best Of Houzz award winner for client satisfaction in 2017 and 2018, and you can view some of our projects and reviews here. Take advantage of our free consultation and estimate by contacting us online or calling 781.238.8800.