Whether you're planning to renovate a small powder room or add a master en-suite, there's much to consider when remodeling a bathroom. Storage is always at the heart of a bathroom remodel.
Today's bathrooms are being built to offer homeowners a complete spa-like experience. By incorporating elements such as smart technology, updated plumbing fixtures and tricked out cabinetry, a bathroom remodel can take you from ho-hum to wanting to hum a happy tune. Here are some key points to consider if you're planning to remodel or add a bathroom:
First, Prepare For The Process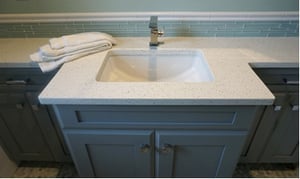 Let's face it. Bathroom renovation is bound to be messy. From demolition through the construction process to the finishing touches, this will be an inconvenience, but will be worth it and won't be as irritating if you plan ahead.
Plan to do the following before demolition begins:
Gather all toiletries, towels, etc in the bathroom. Move those that you use often to another bathroom and pack up the rest.
Do plan on moving out of your master bedroom if you're renovating the master bathroom; it won't be fun trying to stay there.
Have a family meeting about how everyone will share the other bathrooms in the house.
Make a plan for keeping pets away from the construction.
Shower, Bathtub, Or Both?
Let's start with the shower and bathtub. Do you want and need both, or do you just want a shower? Don't make a decision based on what you think a future buyer might want. Choose based on your family's needs and preferences.
If you decide you want both a tub and a shower, remember that you're not limited to one unit for both. Freestanding tubs are quite the trend, and stand alone showers present the advantage of installing a linear, or curbless, drain instead of the typical 4" step into the shower.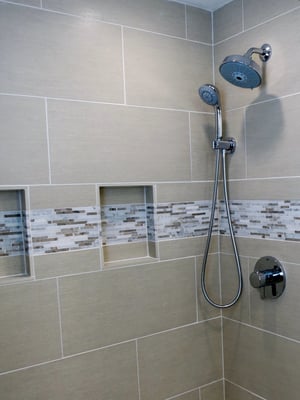 A linear drains eliminates the need to step over a curb and allows for a "barrier free" entry into the shower. The shower floor is flush with the bathroom floor, which is a popular design element for homeowners who want to age in place.
Showers
Some popular options to consider when designing your shower include:
Linear drains for aesthetics and safety
Steam showers for stress relief and clearer skin
Shower niches for organization
Rain heads for luxury
Hand-held sprayers for convenience
Tile that makes you happy - because there will be a lot of it!
Bathtubs
If you're opting for a bathtub, consider integrating smart technology to make your soaks wonderfully spa-like. Smart home technology options for bathtubs enable you to:
Fill tub remotely
Preset and adjust water temperature remotely
Sync jets to spray in rhythm with the music playing on your iPod
Sync LED lights to change color with the music
Heated tub backs for longer soaks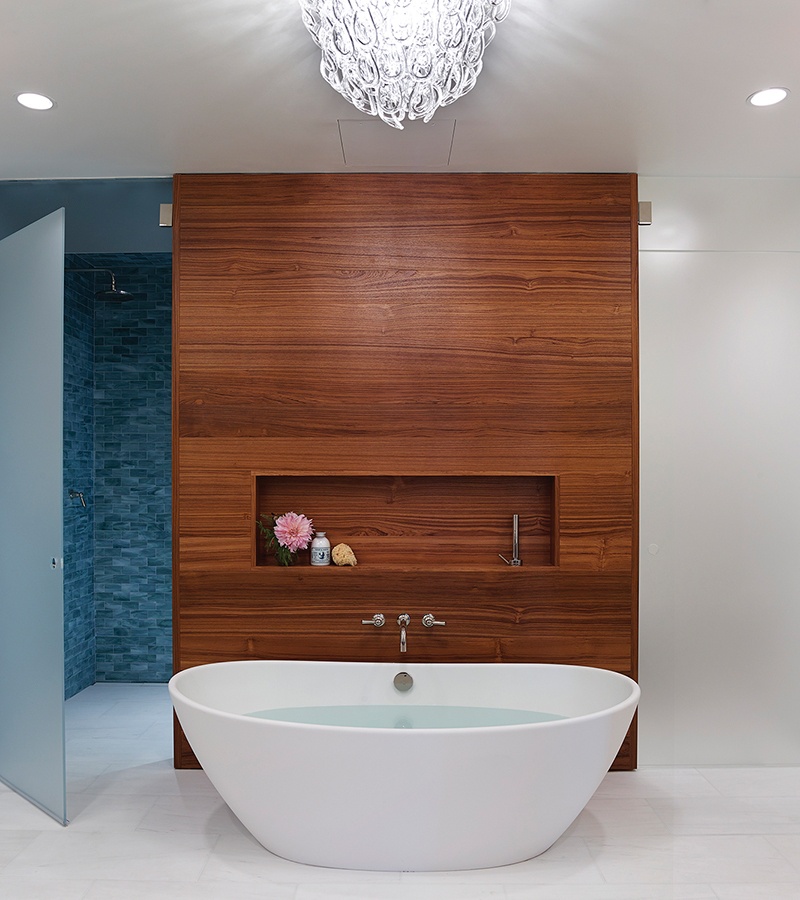 Customize Storage
While showers and bathtubs are the sweet spots of any bathroom, cabinets are the unsung heroes. The right cabinets make the bathroom design look cohesive with storage to keep the vanity area from becoming cluttered.
Consider customizing your cabinets with pull-out trays or drawers for hair dryers and hair irons, with electrical outlets, as shown here: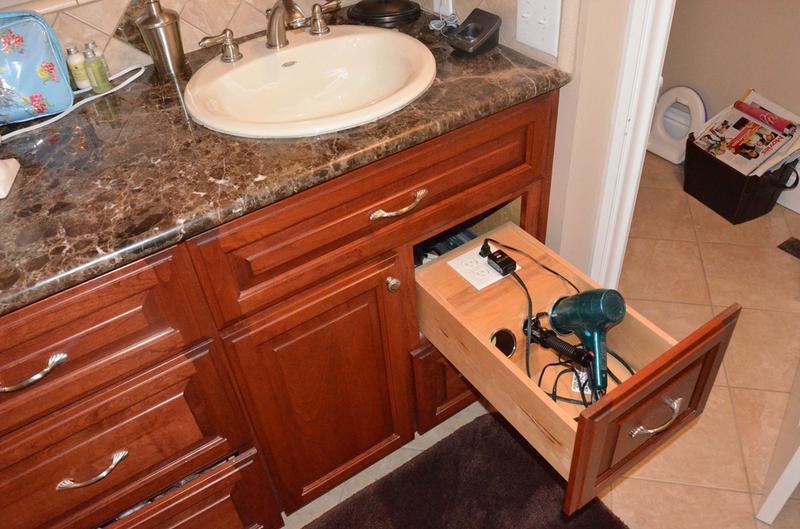 Storage drawers are also excellent for saving space and organizing lotions or cleaners. Tall linen cabinets, open shelves, and built-in medicine cabinets add to the bathroom's storage space. Suffice to say, there are so many clever ways to utilize more space with customized cabinets and all those uncluttered vanities definitely make a bathroom feel more spa-like.
Finishing Touches
Once you've decided on the plumbing fixtures take a look at the options for flooring, tiling, lighting and finishing touches like cabinetry hardware. There are many porcelain tile options that make a handsome and highly durable flooring and wall surfaces. Strategic lighting also plays a large role in making the bathroom more spa-like, with recessed or hidden lighting sources and dimmer switches to suit your mood.
Popular plumbing finishes include satin nickel, black and beautiful shades of gold available in matte, satin, or spun finishes. These gold accents are more sophisticated than the old gold accents and they don't show fingerprints or water spots like chrome does. Gold accents are great for light fixtures, cabinetry hardware, or mirrors, especially when mixed with black.
Needless to say, the possibilities for creating a spa-like bathroom are limitless. Which options would reflect your style and needs? If you're thinking of renovating an old bathroom or need help designing a new bathroom, come talk to us! Take advantage of our free consultation and estimate by contacting us online or calling (781) 238-8800