Are you planning on renovating your kitchen in the near future? If you are, we highly recommend that you take advantage of new kitchen technology in order to make your experience in the kitchen more convenient and more efficient.
You may not realize it, but kitchen technology has advanced leaps and bounds over the past few years.
Features such as touch screen controls and wireless smart controls may seem like something out of a sci-fi flick, but we can assume that these will features will become commonplace in a few years, which is why you should integrate them into your kitchen design now!
The following are just some examples of new kitchen technology that will boost the performance of your kitchen: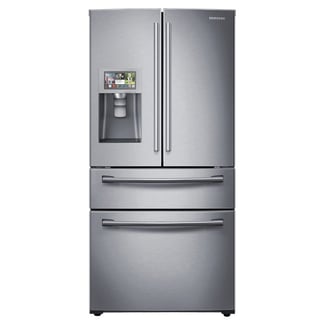 Samsung 4-Door Refrigerator - This fridge boasts a "Counter-Height FlexZone" drawer, which has four different temperature control settings that you can use depending on what you are storing, from "chill" to "soft freeze." It's also incredibly spacious and has two doors that open from the middle out.

However, the most impressive feature of this particular fridge is the Wi-Fi enabled LCD screen. Not only can you control the temperature of the freezer and fridge via the touch screen, you can go online and check recipes for the ingredients you need. Don't have anything to eat? You can order delivery from your favorite restaurant through the LCD screen as well!




Dacor's Discovery iQ Dual-Fuel Range - The features on this range kind of boggles our mind, and I'm sure it will boggle yours too. Not only does it have a screen on which you can watch cooking tutorials as well as access different recipes, it also allows you to control the range via your mobile device, such as a smartphone or tablet.

This means that you can preheat the oven on your way home! The range consists of two electric ovens with 10 different cooking modes to choose from. It will even send you a text when your food is ready and has a digital meat thermometer that will pause the stove if your meat has reached the perfect internal temperature.





Touchless Trash Can - You may not realize this, but there are a number of touchless trash cans already on the market. When you're in the middle of cooking a meal, the last thing you want to do is touch the trash can in order to throw something away.

A touchless trash can has a built-in motion sensor that will open the lid automatically if it senses your hands above it so you don't have to wash your hands every time you have to toss something.





iHouse SmartFaucet - You're probably well aware of the existence of touchless faucets. They contain motion sensors so that you don't have to touch the handles, which is handy since this way you won't get the faucet dirty.

However, the iHouse SmartFaucet is in a class of its own. It's a touchscreen-enabled tap (yes, you read that right) that even has a camera used for face recognition (and you read that right too). This faucet allows you to pre-set the temperature of the water, which it will then pull up upon recognizing your face. The LED light will also turn from blue to red in order to signal whether the water is cold or hot.
These are just some examples of how far kitchen technology has advanced. You can pretty much control every kitchen appliance - and even the kitchen lighting - from your smartphone!
If you're curious as to how we can help you implement this kitchen technology into your renovation, contact us at Edesia Kitchen & Bath Studio today.