Laundry Rooms

A new must have room for your home now includes the Laundry Room.
In the past, the washer and dryer were located in a damp, dark corner of the basement. Bringing an over loaded basket of clothing down dark and narrow stairs is an accident waiting to happen. Sharing the space with the furnace and a few spiders was never appealing. Today, the laundry room is bright and airy and can handle a variety of activites.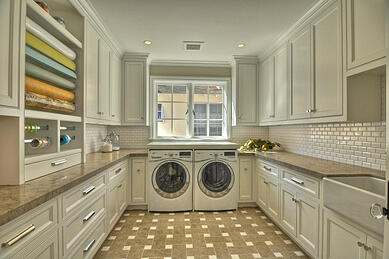 This beautiful laundry room has it all!


To plan for yours, first consider where this space should be located; upstairs where the dirty laundry accumulates, or downstairs to be incorporated with the mudroom? Other functions that can be combined with this space include gift wrapping, crafting, dog washing and sewing.


How will you use your space? Will you bring the laundry in baskets, and return the clothes to each room? Should there be hampers in this room, to sort as you go? Or do you prefer cubbies for each person to take their own clothing to their rooms?


Washers and Dryers
When selecting your washer and dryer, front laoding, undercounter units can have countertop space above which is perfect for folding. Adding pedestals can make the front loaders higher and easier on your back. For the washer, install an automatic shut off in case of a burst hose. A drain pan or floor drain for the washer machine will save the space in case of an accidental water leak. If located upstairs, I prefer the washing machine to be located on an exterior wall, so there is no vibration in the space below. Check the energy efficiency of your new machines. Gas is cheaper in long run even though the unit is more expensive to purchase. The dryer needs to be vented outside, not in the attic where condensation can build up.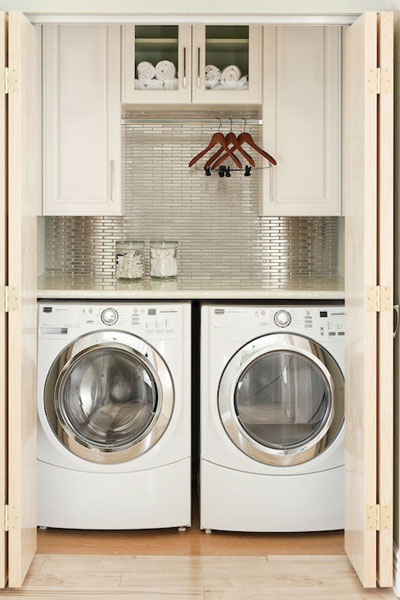 Don't have a room to dedicate for laundry? The washer and dryer can fit in a closet, either side by side or stacking machines. Make sure you have countertop space!


Other activities this room can handle include:
A sink to hand wash delicates, with either pull out drying racks or hanging rods for the wet clothes to dry.
A broom closet to hold a mop, cleaning supplies, and the vaccumm/central vac hose.
Ample countertop space to fold the laundry fresh out of the dryer
A dog wash station, which would include a shower pan with hand held shower
Laundry bags for the dry cleaning
Additional storage to handle the bulk purchases from Costco
Ironing board that can be inside a cabinet drawer or drop down from wall; determine how much ironing is needed.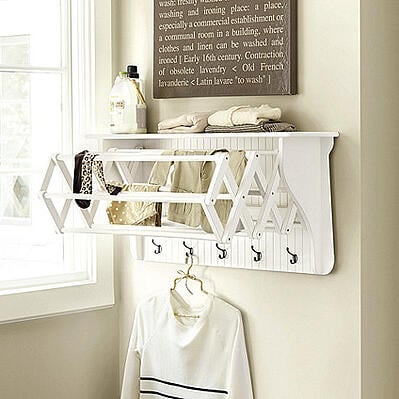 Check out this drying rack for clothing that can't handle the dryer.
Lastly, this room should have windows or good lighting. Consider installing a television if you are going to spend a significant amount of time here.
Looking for help planning your laundry room? Contact us - we are here to help!