Kitchen islands are a great addition to your cooking space. They are a design feature that adds an air of elegance to the room. You can open up your kitchen and increase the functionality of the kitchen island by situating electric outlets on the island. Electrical codes may require an island outlet; so you should check with your electrician.
You need to consider a few things when you want to install electric outlets. Which appliances would you use on your kitchen island? This determines where you will place your outlet whether on the countertop or on the side.
POP UP RECEPTACLE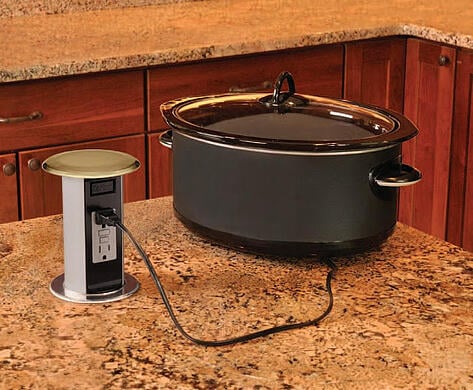 Water and other cooking liquids are rather prevalent in the kitchen. According to electrical regulations you cannot have outlets in the face up position on the kitchen island surface. This is because any spills on your electric outlets would be a fire hazard.
A pop up receptacle is a good solution to this problem. This is also sometimes called a grommet. It poses less risk of liquid damage and can also be popped right back into the counter top when not in use thus minimizing obstruction.
Although, you should be aware that this kind of fixture could be a challenge to clean especially if a lot of spillage or preparation takes place near it.
ELECTRIC OUTLET IN SIDE PANEL
This is your run of the mill electric outlet placement, when it comes to kitchen islands. Your standard electric socket is simply installed into the side of your kitchen island. The advantage you would get from installing this type of outlet is that the countertop of your kitchen island is unobstructed. If your countertop has an overhang, it would suit this type of fixture very well since the overhang hides the electric outlet.
However, just because it's your typical installation does not mean you can't jazz it up. You can also install this side panel receptacle to match and blend into the sides of your island by either having it topped by wood paneling or painted depending on the your surface finish.
ELECTRIC OUTLET IN FALSE DRAWER
In the effort of preserving the façade of your kitchen island, you can have a false drawer installed into the sides of your kitchen island. This false drawer will house your electric outlets. The benefit of this type of fixture is that the finish of your kitchen island remains flawless and elegant while still elegant. The electric outlets do not disrupt the surfaces or the aesthetic of your kitchen since you can shut the drawer and hide the outlet when not in use.
You have quite a few options to play around with when it comes to false drawers. You can either have a horizontal or vertical drawer fixture. The horizontal kind fits snug under your countertop and can complement your cutlery drawers. On the other hand, the vertical false drawer melts into the side of the kitchen island appearing as just another panel.
Usually the cavity of the drawer will be shallow to accommodate only your electric outlets. You can also have the cavity recessed farther back so that it can serve as a temporary storage. So for example if you would like to charge an appliance and not have it on the countertop, you can stow it there in the mean time.
ELECTRIC OUTLET IN KITCHEN ISLAND LEG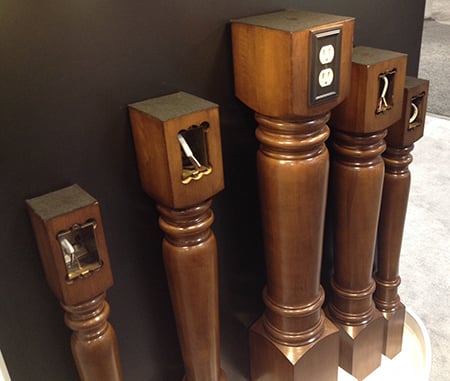 If your kitchen island is the traditional table top or is elevated on table legs, you can make the legs functional. Installing electric outlets on the island leg produces a semi hidden effect. You can put multiple outlets per leg and even have them finished in a fashion that matches your finishing.