Every year the National Kitchen & Bath Association, NKBA, holds an industry wide trade show, KBIS. I decided to skip this year's Las Vegas show for several reasons. With this present economy, there hasn't been any new innovation, in my opinion. Also, the vendors out west typically don't serve the northeast market. And why add that overhead to my company?
Instead I am posting some classic kitchen designs from other trade shows that I have attended.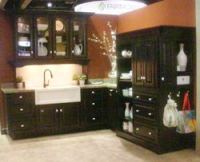 While being a traditional kitchen design, this updated look includes the unfitted wall cabinet "hutch" as opposed to having the wall cabinets wrap the space. The demi-tall cabinets against the wall provide storage while not imposing the room.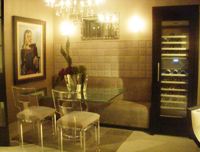 This wine cabinet fits perfectly next to the built in banquette with this modern kitchen design. The wine collection can be viewed from across the cooking area.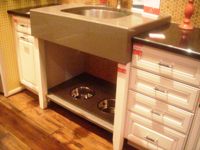 How many times have you kicked over Fido's/Fluffy's water bowl? When designing kitchens for families with pets, an area should be allowed for their food and water bowls, as well as the dog crate. This simple kitchen design accommodates this additional family member.
This cabinetry piece was built to be a stand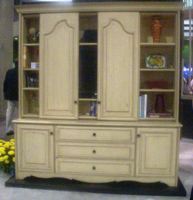 alone unit. Kitchen cabinetry can be designed for other rooms in the home: laundry room, closet areas, pantries & libraries. The advantages include a wider selection of finishes and cabinets sized to fit your space. For this hutch, the television can easily disappear behind the sliding doors, the dvd's can be organized in the drawers and the components are hidden in the base cabinets.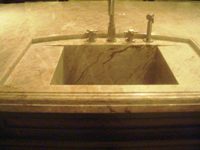 I saw this granite detail in a New York showroom. The recessed area surrounding the granite sink is exquistite. The edge is doubled up, dupont on top of eased.
What have you seen that qualifies as the best? Do you require a unique solution in your home? Tell us! We can help you!