"How can we get granite countertops?" was the question I was asked when this couple grew tired of their worn laminate top. Where do you get started? There are several steps for installing granite countertops, all of them are equally important.
Most people are choosing granite kitchen countertops for its durability, unique colors and to obtain the glorious undermount sink. Here are the steps: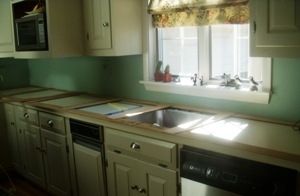 Step 1: First the counter top is templated - strips of wood are used to create a custom pattern from the existing top. Any cabinets that will rest on top of the counter top must be installed after the new countertop is installed.
Given the length of this countertop - 133" - and the length of granite slabs - 120" - a seam was needed. The clients picked the seam location, away from the sunlight coming from the window. I had suggested 2 short seams by the sink. Where would you have placed the seam?
Step 2: A site visit to a stone yard to choose your granite slab. Each stone slab can vary from the next. They are sliced of the block, similar to slicing a loaf of bread. Lot to lot, the colors and direction changes. Typically stored outside, slabs must be viewed when dry. They are darker when wet, so cancel your trip if it is raining. Also, most yards do not allow young children.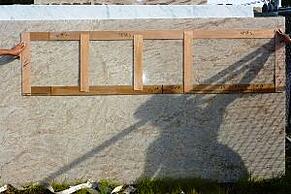 Step 3: The template is placed on the slab. You can fully view the new countertop prior to fabrication. Any "imperfections" that are found on the stone can possibly be eliminated from your finished countertop. However, when you approve the slab, you should assume that any and all of this stone will appear on your finished counter top.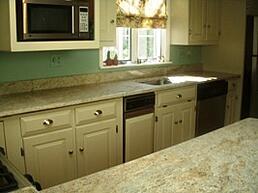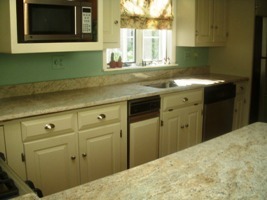 Step 4: Within 1 business week, this finished granite countertop is returned for installation. Granite backsplash is included with a longer overhand created for a stool.
The new undermount sink is the last to be connected, dishwasher and compacter needs to be siliconed and raised to the underside of the stone and this project was complete.
Granite tops should be resealed every 6 months to 1 year, depending on how much you use your countertops. When water drops start to absorb into the stone, instead of remaining as beads on top, it is time to reseal - wiping a granite sealer with a dry cloth, allow it to fully dry overnight. Do not use abrasive cleaners, or cleaners that contain acid, vinegar or lemon juice - these products can wash off the sealer.
How do your countertops look? Adding a new granite top gives an instant update to any home. Aren't sure which countertop is right for you? Down load our Ebook to learn about your options!