Edesia Kitchen & Bath Studio is located north of Boston MA. As an interior designer, we excel in our designs for kitchens & baths. We provide the cabinetry, countertops, hardware and tile.
Kitchen Remodel Before and After 1: On May 16th, I got an email that read: "We are looking to remodel and make use of what is now an open kitchen by adding a breakfast bar / peninsula, new cabinets and granite. We have been struggling with design as it's a decent size; open but not a huge space where an island would fit well. It was suggested that I speak with you about design concepts." They wanted kitchen seating for quick meal in their Tewksbury MA home. Dinner was in the adjacent dining room, which they wanted a bigger opening or potentially remove the entire wall which blocked the kitchen. They were also concerned about the view from the front door.
The existing arched oak cabinetry looked dated and worn out.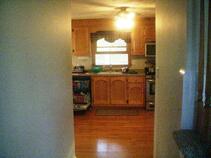 This was the existing view from the front door. Not very inviting to guests. But would an island make the space feel too tight?
The clients removed their own cabinetry over a weekend, and Newhouse & Sun Construction started construction on August 15th. Scope of the work included patch hardwood floors, refinish floors on the 1st floor, install new cabinets, and back splash, install existing appliances, paint entire first floor, install a new replacement window, and permits.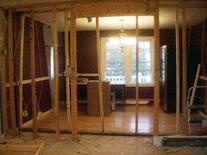 Existing dining room was closed off to the kitchen. It was decided to remove as much of the wall as possible.
The clients chose a rich cherry cabinet, with lighter gold toned counter tops and tumbled marble back splash.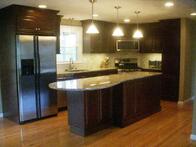 This new layout adds plenty of prep space, with an island that has room for 4 stools at the end. The clients moved back into their kitchen on September 20th. Back splash and hardware indecisions added to this completion time.
This is the new and inviting view that guests now see upon their visit. The client's recent email stated: "Your vision for what our outdated kitchen could be was amazing. The design not only opened u the space but made it more functional and practical in terms of seating and prep area - and of course, you gave it such a modern yet classic and elegant flair that our friends and family can't believe it's the same space!" Click here to read the entire email from Kerry & Kevin.
How do you feel about this new layout?
What issues is your present kitchen having? Contact us today for a free consultation!