More and more people are turning to the classic look of hardwood floors for kitchens for both aesthetic and practical reasons. Hardwood floors for kitchens look beautiful and traditional, especially in a kitchen with an open floor plan. They are also long-lasting and durable, and they can be refinished to look as good as new.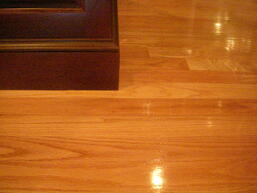 This white oak floor looks great against the dark cherry cabinets.

When you're cooking, you're on your feet for long periods of time. Tile and other hard floors can put a lot of stress on your feet and leave you with sore feet at the end of a long cooking marathon. Hardwood floors for kitchens are much easier on your feet, because they are softer than tile. You'll be able to cook barefoot without needing a soft rug in your kitchen.

This softness of hardwood floors will also save the life of your plates and your cups when you (or your kids) accidentally drop them. Since hardwood floors are soft, you'll experience less breakage when things are dropped. Also, you won't need to worry about replacing a broken or cracked tile - a hardwood floor is much less likely to sustain damage from a dropped item.
This is a sample of a cork floor, soon to be installed on a new kitchen project. Stay posted for these photos!

Over the years, a hardwood floor can get scratched and dented by dog nails and high heels. However, this will only add character to the timeless look of hardwood floors for kitchens. If the scratches and dents get bad enough to bother you, you can easily get them refinished. This can be done by a professional, although many homeowners have elected to refinish their hardwood floors themselves to save on costs.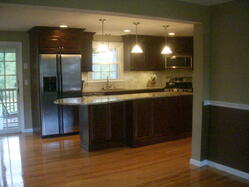 Check out the hardwood floors with this Kitchen Remodel!
If you have an open plan in your house where your kitchen and your living room flows together, a hardwood floor will bring together the two rooms seamlessly. The wood floor from the dining room was brought right into the kitchen for this project. Hardwood floors for kitchens also contribute to a warm, homey feeling. After all, the kitchen is the heart of the home, so you want it to be welcoming and cozy. You can achieve this feeling with a hardwood floor in your kitchen.
Can't decide on your kitchen flooring? We can help you!