According to a recent survey by Ricki, 11% of people surveyed cook their main dish with their microwave every day, 11% use it 5-6 days per week, 21% use it 3-4 days per week, 37% use it 1-2 days per week, and 20% don't use a microwave at all for their main dish. There are several locations that a microwave can be installed for your new kitchen, but it must be planned for, otherwise it will end up taking precious counter top space. Here are 5 microwave cabinet design options:
Over the Range: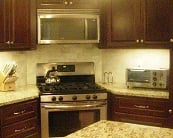 This type of microwave serves many functions - it is a microwave, a vent, and a light. The multiple uses saves counter top space and is cost efficient. It can be vented to the exterior or recirculate internally. Mounted at 57" above the floor, this height may be too high for the vertically challenged. Although the vent is adequate for the back burners, it is not acceptable for a professional range.
Another option for ventilation over a hood is a wood kitchen hood.
In a Wall Cabinet, Option A

This microwave is 54" above the finished floor, and has counter top space below. The depth of this wall cabinet needs to be 16-18" deep, depending on the microwave model and electrical outlet location. A microwave trim kit gives the appliance a built in look. The countertop space below makes a useful landing area for the hot item.
In a Wall Cabinet, Option B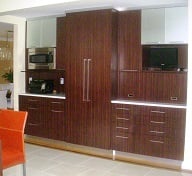 Taking advantage of the deeper wall cabinet, this example shows an appliance garage mounted below. The microwave is mounted at 54" above the finished floor.
In a Wall Cabinet, Option C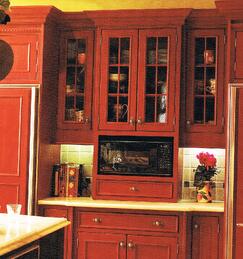 If you would prefer to have the microwave installed at a lower height, you could have the cabinet reach the counter top with a drawer below.
In this application, the microwave is mounted at about 42" above the finished floor. The drawer below can be used for oven mitts or serving utensils, and provides a spacer so the microwave door can be opened if there are items on the counter.
In a Base Cabinet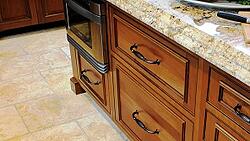 This is a drawer microwave; it has been in the market for a few years and gaining in popularity. This application makes it easier for your children to use for their snacks, however, taller adults don't want to have to bend over to use it.
Depending on how often you use your microwave to cook will determine the best location for you. How often do you use your microwave? Where is your microwave currently? Is that the best location possible for you and your family?