One of the first comments that a new client, Mary, said was that she wanted a better kitchen corner cabinet solution. She hated having a lazy susan cabinet. Her kitchen has the old style lazy susan - the doors are inset, even with overlay style cabinet doors for the other kitchen cabinets. The plastic trays are approx 16" diameter, on a metal pole, wasting lots of storage space. The weight of the objects cause the shelves to sag and no longer spins easily. Can you blame her? When items fall off the shelf, it jams the entire unit and prevents it from spinning.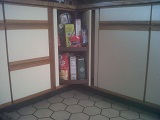 Kitchen corner storage cabinets have since evolved. Here are several options:
The new lazy susans have 2 wood shelves that spin independently. The top susan is on a fixed shelf, so if a smaller item does fall off, it is easy to reach. With these deep bins, smaller items won't be falling off. This cabinet is typically 36" wide x 36" deep. Make sure it can fit through your entrance door!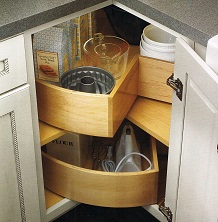 A new kitchen corner solution removed the spinning shelf all together with drawers. The triangle shaped spaces can hold smaller objects, like the oven timer and measuring cups. The center area can hold pots and pans. This cabinet is typically 39" wide x 39" deep.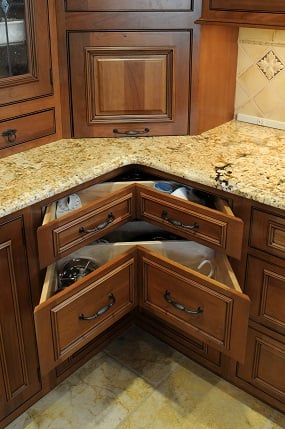 Another option is a blind magic corner. Behind a full height door, the first 2 shelves are easily accessible, and once pulled out, 2 more shelves from the back come forward. The original option had the first set of shelves attached to the door. This cabinet measures 48" wide x 24" deep.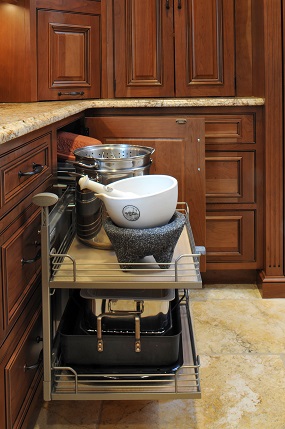 This is a LeMans unit - these oblong shaped shelves operate independently, and require less steps to open than the magic corner. The cabinet required measures 48" wide x 24" deep.

What are your current corner storage solutions? Is it a nightmare or highly efficient?
For cabinet storage solutions - contact us today!