Edesia Kitchen & Bath Studio is located north of Boston MA. As an interior designer, we excel in our designs for kitchens & baths. We provide the cabinetry, countertops, hardware and tile. Here is our latest kitchen remodel.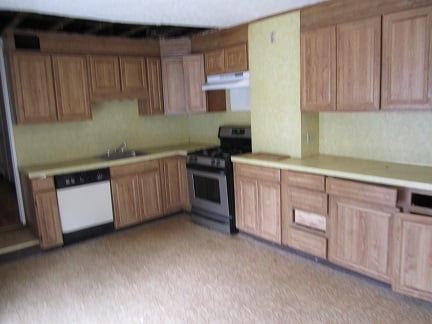 This kitchen remodel before and after is a bachelor pad that badly needed this renovation. Located in South Boston MA, this city living allowed for a quick work commute with an even better social life. However, this kitchen was a downer to come home to and an embarrassment to entertain in. A broken door, missing drawer head, and drawers that weren't even installed with glides did not make for a fabulous cocktail party.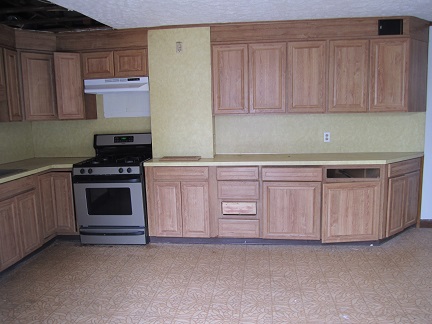 The budget needed to be kept in line, while the client lived in his space during the renovation. The chimney flue had to stay, as well as the location of the sink and stove. There were major delays connecting the updated utilities, as it involved access to the other condo units.

The fully gutted space received all new cabinets, counters, appliances, hardware and tile. Wine fridge tucked inside the island adds to the space.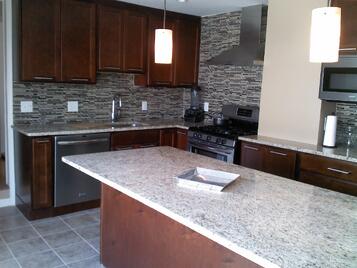 The cabinetry is from Armstrong Cabinets, Newbury door style with a Autumn brown finish on maple. Granite is Giallo Ornamentalle, with glass backsplash tile for some bling. The shape of this tile allows for a horizontal or vertical installation, but the hardware direction should follow suit. Vertical installation would require more cuts; and therefore be a more costly install.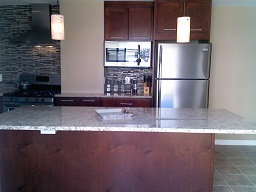 The fridge was moved back into the kitchen. The large island is perfect for entertaining. During the delivery, the top part of the stairs needed to be removed to get the island granite into this unit. The slabs are heavy and can not bend around a tight staircase turn. Appliance package came from Yale Appliance & Lighting.
What challenges are you facing with your future kitchen remodel? Have a dilemma, let us know! We are here to help you!