Edesia Kitchen & Bath Studio is located north of Boston MA. As an interior designer, we excel in our designs for kitchens & baths. We provide the cabinetry, countertops, hardware and tile.
When adding your new cooktop, remember that they require a type of ventilation. Options include wood kitchen hoods, stainless steel hoods, down drafts, and microwave hoods. Your selection will heavily influence the style of the kitchen you are envisioning. However, the strength of the blower assembly (the guts of the hood) needs to be appropriate to the cooktop's btu (the heat given off from the burners) Add up all the BTU's from your cooktop/range and then divide by 100 to reach the CFM needed from your hood.
A wood kitchen hood has a blower built into a decorative wood hood, made from the cabinet company. Ideally, the mantel hood should extend 3" wider over each side of the cook top. For example, a 36" mantel would be above a 30" cook top. They are typically 21" deep, and should be mounted between 30"-36" above the cooking surface. Designed inside is space for a blower package to be mounted. The fan assembly can be interior or exterior mounted. The interior mount can be noisy but you will only see a pipe from the outside.The exterior fan is quieter inside, however there is a metal box stuck to the outside of your roof or wall.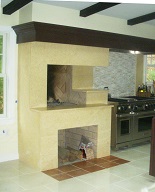 Our project in Cohasset MA has a very contemporary, clean hood built with just the crown molding.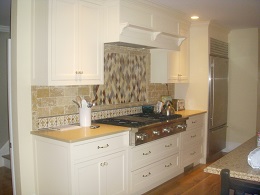 This wood kitchen hood is connected to adjacent beaded inset wall cabinets. There is additional wainscot detailing on the sides of the 21" deep hood. Mantel hoods can be the same or contrasting finish.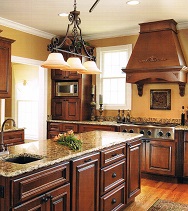 This wood kitchen hood is free standing from the kitchen cabinetry.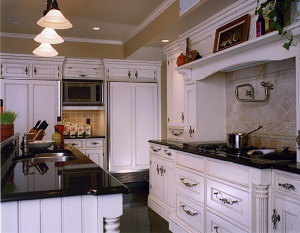 This attached wood kitchen hood has pullouts on either side that reach the countertop. These pullouts can hold spices, both small and large, along with oils, for cooking convenience.
Don't have the extra space for a Wood Kitchen Hood? Check out a microwave oven above the range.
For more information, download our Ventilation Ebook!