Today's Guest Blog is from Neil Ross, owner of All American Plumbing & Drains.
One of the most common plumbing questions I get asked from my customer's is: Can I move my kitchen sink from one area in the kitchen to another. Moving the sink is almost always possible. The only problem with moving it is how the sink drain is vented. A drain must have a vent so that the water can move freely. Moving the drain and/or the water is very simple in most cases. The venting issue comes up when there either is no proper venting or there is no way to move the vent and maintain proper pitch for the vent (which is supposed to be a quarter inch per foot).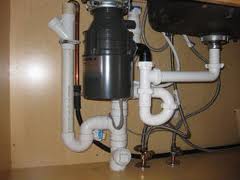 Typical view from inside the sink base cabinet.

Most times we can find a way to get either a new vent up or redirect the existing vent so that we can properly vent the sink and still be within the Massachusetts state plumbing code. We normally look for a closet above the kitchen to bring a new vent up so that the new pipe will be hidden from view and not out in the middle of a room. Also, there won't be a need for a carpenter to hide the vent in the wall.
Do you like where your sink is currently located? Is it centered under a window? In an island?
How is that working out for you?
For your plumbing questions, feel free to contact Neil at Facebook.
For any kitchen remodeling questions, contact us today!