Kitchen Stone Flooring

Your kitchen floor will have the most traffic than any other room in your home. Not just for meal prep and eating, kitchens are also the room where everyone gathers, including your pets and their food bowls. Choose your flooring based upon your lifestyle as well as the look you want and the maintenance you can handle. The goal is to choose a floor that not only looks fantastic, but will hold up to the wear and tear of your family over the years. There are several options for flooring: wood, natural stone, ceramic, linoleum, and cork. Here are the options for natural stone flooring.



Natural Stone Flooring:
Options for a stone floor include limestone, slate, travertine and marble.
There are many reasons to choose natural stone; it adds to an upscale look. Stone will have variations in color; meaning no two pieces will match, which adds to its beauty. When selecting, make sure you can view a large sample in the showroom, or the overall look and color may surprise you. Once sealed, it will have a durable finish, and require very little day to day maintenance. It will need to be sealed at regular intervals. The cost will range $15 - 30 per square foot, not including installation.

Pros:
Stone is cool to your foot, perfect for walking barefoot in the New England summer. During the winter, it can be used with radiant heating underneath for an overall warm effect. A stone floor is absolutely stunning. There are many sizes to choose form, and can be installed with multiple patterns. As with all natural products, each piece will vary in color, even in the same box,

Cons:
Stone is hard on your feet or back. This is something to consider if you prefer to walk barefoot in your home or if you have back issues. If you drop a dish or glass on your stone floor, it will more than likely break. It must be installed with a smooth and level sub floor with the correct mastic or the tiles can crack. In a large space, there will be an echo due to the hard surface.
Limestone:
Limestone is softer than marble or granite. The entire floor and grout needs to be sealed regularly. The colors ranges from tans, gold to reds.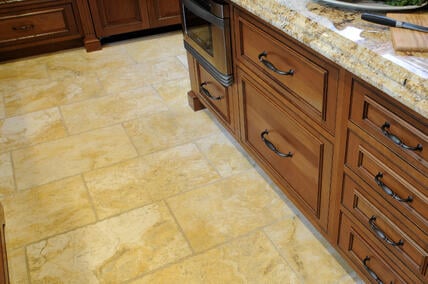 Limestone flooring installed with a running bond pattern.
Slate:
The natural slate has a cleft surface which makes it very durable and naturally slip resistant. Slate lends itself towards a rustic look. The colors are multi-colored warm earth tones.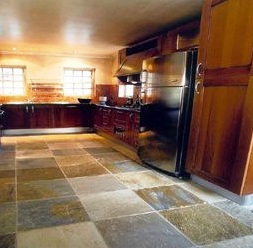 Slate flooring installed with a stack bond pattern.
Travertine:
Travertine, another type of limestone, by nature is a lighter color material. It needs to be polished for floor use, and sealed. Easily staining, make this material not the best choice for you if you have kids or pets.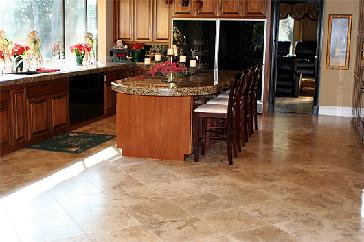 Travertine flooring installed on a diagonal pattern. This pattern causes a lot of waste, so order an extra 10% of the material.
Marble:
While marble is stronger than limestone, it does require sealing. Marble has veining, so make sure you like the overall effect.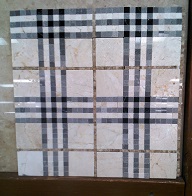 Marble is laser cut to make this beautiful pattern - perfect for a foyer.

For information on wood and cork flooring, refer to: Hardwood floors for kitchens
Still having trouble deciding which flooring to use? Contact us today and we can help you!