From the days of ancient Egypt to modern-day America, people have been putting ceramic tiles for flooring, as well as inside and outside of their homes. Tiles have been a popular flooring choice for thousands of years. Porcelain tiles have since entered the market giving you yet another choice to make. First, let's look at both materials: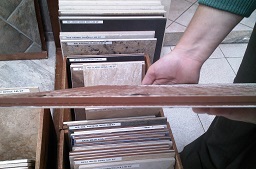 Ceramic tiles are made out of red clay and then kiln fired. The glaze painted on top provides the color and the pattern.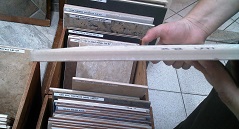 Porcelain tile is made out of porcelain clay dust, providing a solid surface and color all the way through it. It is heavier than ceramic tile.
Durable:
Both flooring is extremely strong and long-lasting. They will remain in great condition longer than any other flooring when they are properly installed. A kitchen can be tough on a floor, but tiles can withstand the damage of the daily wear and tear of a kitchen. Refrigerator or dishwasher leaking water? It's okay, water can't damage these tiles. Their resistance to water makes tiles ideal for other rooms that also see a lot of moisture, like bathrooms, basements, porches, and laundry rooms. Porcelain ceramic tiles have their color all the way through it. If it chips, it won't be noticeable. If something drops and chips a ceramic tile floor, the chip will be more noticeable with the substrate showing through.
Versatile
These days, tiles come in all kinds of shapes, colors, sizes, and textures. You dream it, they can make it. You can find a tile style that compliments your house beautifully. You can choose one tile design to use all over a flooring, or create a mosaic using colored tiles. And you can pretty much put them anywhere in the house. Porcelain tiles can replicate a natural stone floor, with out the additional maintenance.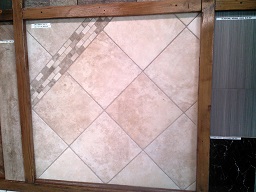 Example of a porcelain tile floor design.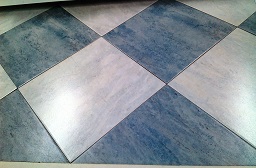 Example of a ceramic tile design.
Easy to Clean
It's very easy to clean both types of tiles. Simply use a damp mop to remove all visible dirt from the tiles. You could also use common household cleaners. You won't need to worry about stains, odors, or dirt. Choose a stain resistant grout to end the maintenance of keeping it clean. Porcelain tile is more dense and impervious, especially if there is a glazed coating on top.
Timeless Beauty
Any space will get an instant boost of character and beauty with the use of tiles. They've been popular for so long that you can be sure that they'll outlast any trendy flooring that's in the magazines today. Add tiles to your home and they'll always be in style. They're also environmentally friendly, which is a beautiful quality. These tiles are made with natural materials and they don't hold on to allergens or bacteria.
Some Important Tips When Choosing Ceramic Tile Flooring:
Ceramic tiles are rated with a grading system, from 1 to 5, based on the durability of the tile. Grade 1 tiles aren't durable enough for flooring; they're more suited for wall applications. Grade 2 tiles are fine for rooms that get light traffic, such as bathroom floors that mostly see bare or stocking feet, but they're generally not strong enough for kitchens and other traffic-heavy areas. Grade 3 and 4 are considered higher quality and when glazed, they're very resistant to scratches. These tiles can be used pretty much anywhere inside a home, and even some commercial applications. Grade 5 is the most durable, but usually not necessary for most home applications. They're mostly used in extremely high traffic areas, such as shopping malls. Since the price goes up with a higher grade, choose the right tile grade for your purposes. Generally, grade 3 and 4 tiles are the most preferred for flooring inside a residential home.
Porcelain tiles are not rated - they are harder, frost proof, more resistant to wear and damage. They are suitable for residential use and light commercial use.
Another important detail to think about when you're looking for the right tile flooring is the finish. Tiles with a honed finish will show less footprints and be less slippery than tiles with a glossy finish. The only real disadvantage of tiles is that they can get cold in the winter. However, you can install radiant heating coils to warm them up. You can't go wrong with tile flooring. Take a look at the many designs available on the market today and I bet you'll find one that's perfect for your home.
Want to know about other flooring options: Check out: Kitchen Stone Flooring, and Hardwood Floors for Kitchens
Have a specific question about the floor for you?