Mid-century modern kitchens will remain high on the list of popular design trends this year, and for good reason. For one, the style is flexible and has a wide appeal that spans generations. Millennials appreciate the hip, minimalist look, while older homeowners appreciate the style's sense of nostalgia. Today, people want clean lines and mid-century modern can deliver that with just the right touch of charm.
Mid-century modern design evolved after World War II, when the postwar housing boom called for an approach that was attainable on a mass scale. The style rose to prominence in the 1950's and 60's, when our country was wild about all things futuristic. It was, after all, the era of Sputnik and The Jetson's.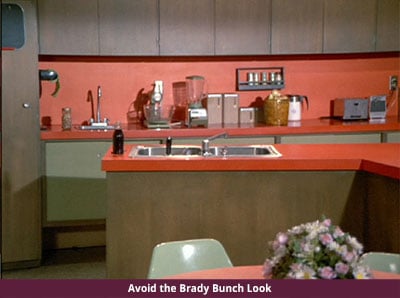 So, how does a look so rooted in a specific time period evolve to stay current in kitchen design today? The key is to balance the trendy retro aesthetic with modern elements so that your kitchen doesn't look like it's straight off the set of The Brady Bunch.
Layout
Most mid-century modern kitchens were built with a galley style layout, with two parallel countertops and a walking area in between. These kitchens were usually compact, and that can be a challenge when remodeling a mid-century home with today's storage needs.
Many homeowners debate whether to expand the kitchen space or to maintain the footprint of the original mid-century modern design. However, using today's design concepts to design a thoughtful renovation can make even the smallest or most narrow spaces extremely efficient and beautiful. With careful planning and interior cabinet storage solutions, the galley kitchen can be wonderfully functional, with ample opportunities for useful work stations and appliances within easy reach.
Materials and Finishes
Mid-century kitchens have characteristic clean lines, including plain countertops and edges. This minimalist look is in high demand today, so focus on bringing the mid-century kitchen to the 21st century by updating finishes, appliances, and storage.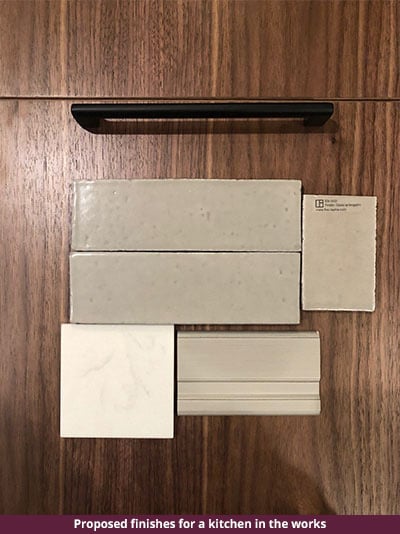 Updating finishes with new countertops and cabinetry goes a long way in refreshing the look of the kitchen. There are many options for more durable and practical materials today than what was available during the original construction. Stay true to the mid-century modern aesthetic, though, by choosing natural, no-fuss materials. The finishes on the right are for a new mid-century kitchen we're currently working on.
Updated cabinetry can transform the look and feel of the mid-century modern kitchen. Flat-panel cabinets work well with the clean lines of the design style. If opting for a natural wood, a continuous vertical grain direction adds to the detail. New cabinetry also provides a fantastic opportunity to add extra storage solutions to a modest-sized kitchen. For example, there are many creative design ideas to make use of unused corners, including clever diagonal drawers with custom dividers.
Likewise, quartz countertops and contemporary hardware, for example, incorporate modern finishes without compromising the mid-century style. Flooring can also be updated with wood or one of the more modern forms of linoleum that's durable and easy to clean.
Colors & Fixtures
Today's mid-century modern kitchens feature muted colors and rich wood accents that impart a warm, earthy feel. Pops of pastels or bright, vibrant colors in the mid-century inspired color palette are typically added to brighten the space and give the kitchen an uplifting, cheerful vibe.
In addition, one of the standout features of a mid-century modern kitchen is a bold backsplash. Depending on your space, a custom backsplash can be a focal point of the kitchen design, and can tie the whole design and color palette together.
Finally, retro accessories and light fixtures are the perfect nod to the classic look. Accessories and light fixtures are an opportunity to reveal the personality of both the home and the homeowners. There are so many options when it comes to lighting and accessories. Would you choose vintage, retro, contemporary, or quirky? A kitchen designer experienced with mid-century modern designs can help you find the perfect fit.
If you're thinking about renovating your mid-century kitchen to be more modernized, we'd be happy to talk with you. Edesia is a Best Of Houzz award winner for client satisfaction since 2017. Take advantage of our free consultation and estimate by contacting us online or calling 781.238.8800.