There's no doubt that electrical outlets are a necessity in the kitchen, but their placement can also be problematic to say the least. Building codes mandate that there must be an electrical outlet every 4 feet, and it's never a pretty sight when that means that an electrical outlet must be placed in a beautiful tile backsplash or in an awkward-to-use area.
In the first case, there's just no clever way to make outlets blend in with the color or pattern of a backsplash, and in the second case, inconveniently-placed outlets inevitably lead to a mess of unsightly cords on the countertop or unused space.
While it's true that electrical outlets, and the cords that plug into them, too often are unsightly and inconvenient, it's also true that they don't have to be. In fact, there are some clever ways to install electrical outlets that you may not have heard about, such as these three solutions:
Pop-up Outlets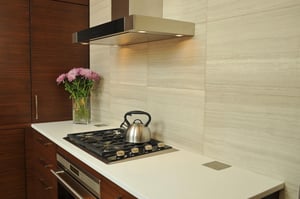 Imagine you are designing your dream kitchen and you want a large picture window behind your kitchen sink to let the morning light flood in. You love the idea, but then find out that code will require you to have an outlet where the window will be. There's no need to give up your dream of the light-filled window thanks to pop-up outlets.
Pop-up outlets are installed on countertops and are hidden by the cabinetry beneath (like photo on right). When you need to access the outlets, you simply press on the top to make the unit "pop-up." These outlets can either be installed as a flush mount, meaning that the top of the outlet is even with the countertop , or surface mount, meaning the top sits just above the countertop. Pop-up outlets come in a variety of finishes, including granite, and can match most kitchen decor.
Under-Cabinet Outlets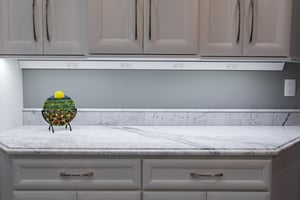 Let's take another look at that beautiful tile backsplash that you don't want to ruin with an awkwardly placed outlet. Angled power strips can be strategically placed at the base of the cabinets above the backsplash.
In fact, under-cabinet outlets can be used anywhere that you need access to electricity but don't want an outlet on the surface of the wall.
Under-cabinet power strips come in a variety of finishes and can be lighted. They can also be custom-made to fit your exact specifications.
Cabinetry Charging Stations
Kitchen outlets are often used not just for small appliances but to charge devices like our phones. While it may be handy to have these devices charging while you're in the kitchen, it also takes up valuable countertop space and the cords often look messy. Plus, spills and phones or tablets are never a good combination.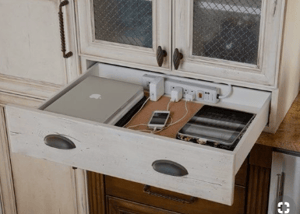 Another option is to design a charging station within a cabinet drawer for all the family's devices. Your phones and smart devices can charge safely away from any spills, leaving your kitchen countertops clear for food prep.
With these clever ways to hide electrical outlets, there's no reason to ruin that backsplash, give up on that picture window, or clutter your countertops with cords and appliances or devices. You just need to know which options would most suit your needs and how best to incorporate them. We can help you evaluate your kitchen space and how to conceal outlets where needed.
If you're planning to remodel a kitchen in Burlington, MA or the greater Boston area, take a look at our remodeling process or view our award-winning work on our website. Edesia is a Best Of Houzz award winner for client satisfaction in 2017 and 2018. Take advantage of our free consultation and estimate by contacting us online or calling 781.238.8800.