If you're redesigning your kitchen and are wondering how in the world to choose a kitchen sink, know that you're not alone. How to choose the right kitchen sink is one of the most frequently asked questions we hear at Edesia, so let's dig into the most important factors that you need to consider. This post will cover the kitchen sink in general, and a later blog will explore some sink accessories you may also want to take into account.

Everyone has to choose a sink in their kitchen design or renovation process, but most people haven't thought about it until this time. Once they start to look at all the options, the choices can quickly become overwhelming. But if you think about how much time you spend at the sink cleaning up, prepping, and soaking items, making the right choice is crucial for both the functionality and aesthetic appeal of your kitchen.
The first question to ask is whether you want a single bowl or a double bowl sink. There's no right or wrong answer, it's all about preference here. With double bowl sinks, most people use the second bowl for drying dishes, which can save countertop space. But single bowl sinks also have an advantage in that they're big enough to handle larger pots and pans.
Your kitchen sink is a large item that will be quite visible, so it should match the design style of your kitchen and home. Farmhouse sinks, also called apron sinks, add more of a visual element than undermount sinks because of the exposed 10" - 12" front that extends to the cabinet below. However, they offer no functional value over a standard undermount sink.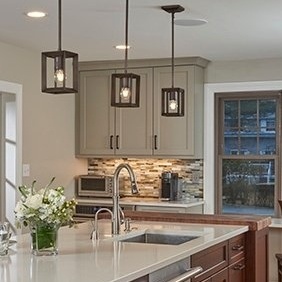 Undermount sinks don't have an exposed front like farmhouse sinks. All four sides are underneath the countertop. You may want to choose undermount if you don't want to give up the cabinet space below the sink that a farmhouse sink would take up.
Depending on which type of sink you choose, farmhouse or undermount, the next choice is which material you prefer the bowl to be made from.
Stainless steel is a common choice for undermount sinks, due to its low cost and easy maintenance, but you need to be careful about the quality of the material. You'll want a low gauge stainless steel because the lower the gauge, the thicker the stainless steel. Make sure the sink bottom is coated for sound absorption. You'll also want to take into account the drain location; drains can be located in the middle, the back or to the side.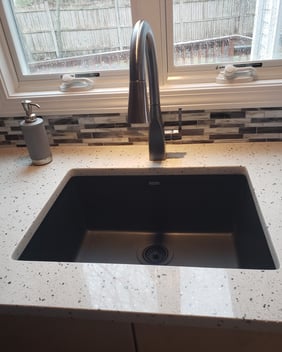 Another great choice is a silgranit sink. This material is 80% granite combined with acrylic, and it's resistant to scratches, stains, and heat. You get the look of a granite sink but silgranit is not as porous as natural granite and may be more in line with your budget. Silgranit is cast in a single pour, with 9 colors to complement the tones in your kitchen.
Porcelain sinks are also an option, and are stain resistant and easy to maintain. While the most common color is bright white, ceramic sinks are also available in other colors.
Finally, stone sinks are becoming increasingly popular and can lend a sense of old-world charm to your kitchen. High-end farmhouse sinks in the early 1900's were typically made from limestone, but popular options today include granite and soapstone. If properly sealed, stone sinks are non-porous and won't stain. Stone sinks can be shaped to fit any space, and the colors and variations of natural stone offer so many visually appealing options.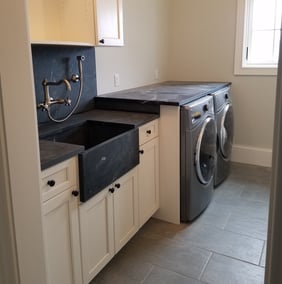 If you're debating which type of sink to choose for your kitchen renovation, or even if you're wondering whether or not you can move your kitchen sink or change it completely, come talk to us!
Edesia Kitchen & Bath Studio is a Best Of Houzz award winner for client satisfaction in 2017, 2018, and 2019, and you can view some of our projects and reviews here. Take advantage of our free consultation and estimate by contacting us online, or by calling 781.238.8800.