When remodeling your kitchen, don't wait for the electrician to show up to start planning the lighting.
Light your kitchen by considering these 4 things: work areas, eating/entertaining areas, general traffic spaces, and accent lighting for a little drama.
When designing lighting for this space, it is important to have adequate light and a good distribution of light for general illumination.
Multiple sources are best, so the light is coming in from different directions. Inadequate lighting is frustrating to work with and very expensive to change once the project is completed.

Three basic types of lighting: general lighting, task lighting and accent lighting; all three should be layered within the space. The location of counters in the general layout of the room is important in the placement of lighting fixtures.

General Lighting - the basic lighting for the room
Can be recessed downlights or track lighting around the room, or chandeliers/pendants over the island.


The downlights can be placed closer than normal to the perimeter of the upper cabinets, if you want to highlight some of the cabinetry doors.


Center islands provide wonderful design opportunities for lighting, decorative pendants lights provide ambient and diffused light. Over kitchen islands, you'll want to hang down some pendant lights or even a chandelier.

When selecting these light fixtures, pick out lights that complement the style of kitchen you are trying to create. If using pendant lights, two light fixtures work well on an island that is about 4' to 6' long. Three fixtures may be required for a 7' or longer island, but this will depend on the overall size of the fixtures.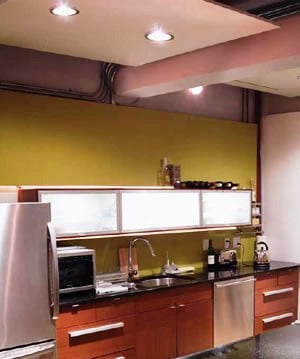 The downlights in the ceiling provide general lighting.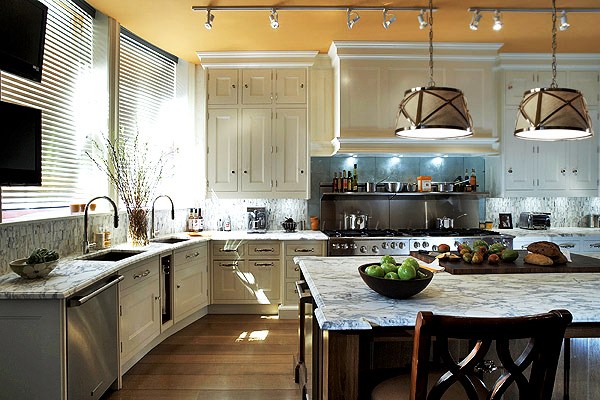 These island pendants provide some visual interest.

Task Lighting - lighting which highlights a specific work area
Task lighting is designed to light a specific activity, such as lighting above a cook top.
Under-cabinet lighting does a great job of providing task lighting for countertop activities, such as food prepping. It is shadow-free and emphasizes the shape of the kitchen. This lighting consists of light fixtures that are mounted to the bottom surface of the upper wall cabinets.

The cabinet either needs a recessed bottom or a light rail (which is a piece of molding applied to the bottom of the cabinet) so that the light is hidden from view. Make sure there is enough wire so the fixture is mounted closer to the front of the cabinet, or you may see the fixture from an adjacent table.
There are several options available. The halogen "puck" lights sold at the big box stores are usually cheap and poorly made so make sure you buy a high quality puck fixture. These come in either halogen bulbs or xenon bulbs. Halogen bulbs burn very bright and create a
considerable amount of heat. Xenon bulbs burn much cooler, so in my opinion are the preferable choice. Avoid fluorescent fixtures as the light is artificial looking and changes the look of your food and finishes.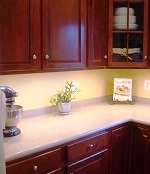 This under cabinet lighting provides an even glow, without any hot spots.
Accent lighting - lighting which can create a focal point in the room.
Accent lighting can provide visual interest and a focal point in the room; it creates a focal point by drawing the eye to a particular object. It can be used to highlight architectural features like a coffered ceiling or arches, or artwork and special collections on display.

Cove lighting provides soft, indirect light. Interiors of cabinets with glass doors can be lit for a dramatic accent. You can plan for above cabinet lighting if the cabinets do not reach the ceiling.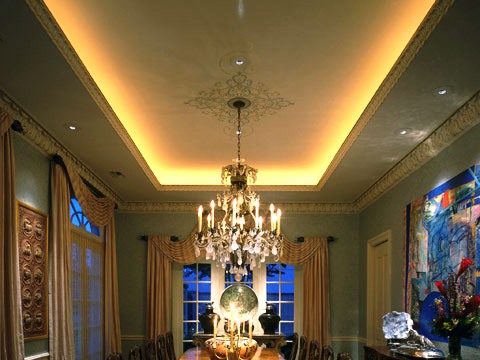 The lighting in this cove creates a very dramatic room.
When planning your lighting, keep this in mind:

1. Prevent shadows - lights should be placed over top of the work surfaces. Every work surface should be lit. Make sure the lighting is placed where your body won't block it when you are cooking.

2. Place hanging fixtures with multiple bulbs over eating tables. Several bulbs will always give you the maximum flexibility to allow for different functions (reading the mail, dining, homework, etc.)

3. General or ambient lighting helps to fill in the gaps in traffic spaces. Recessed lights are great for this purpose.

4. Accent lighting in the kitchen can include lights inside the glass door cabinets, picture or
sculpture lights, cover lighting, lighting above the cabinets, or simply a fun or decorative wall sconce.

5. Use dimmers, and separate switches for flexibility.

6. Decide on quality of the light and bulbs. Incandescent light provides soft, warm yellowish light, usually used for recessed cans or downlights. Halogen lights produce a crisp white light that is appropriate for task lighting; fluorescent lights, which have a long life and low energy use, now come in many different shades from warm to cool.
Starting to plan your new kitchen? We are here to help you!