The kitchen sink and the area surrounding it is the most used area of the kitchen. How we prepare food, cook, and clean up centers on the kitchen sink area.
When the space is less than functional it makes our work in the kitchen more tedious than enjoyable, but it doesn't have to be that way. There are many innovative tools and smart solutions for creating a more workable kitchen sink area, and often just one or two can transform the function and appearance of your kitchen sink space.
Choosing A Sink
Let's start with the sink itself. The big debate here is whether to go with a farmhouse sink or an undermount sink for your kitchen design.

Farmhouse sinks, also referred to as apron-front sinks, have an exposed front that drops down to the cabinet below rather than stopping at the countertop edge. In your kitchen design, the sides and back are undermount and not visible.
Farmhouse sinks are usually chosen for their charm and vintage appeal since they were used in older times but they've become popular again in both traditional and contemporary spaces.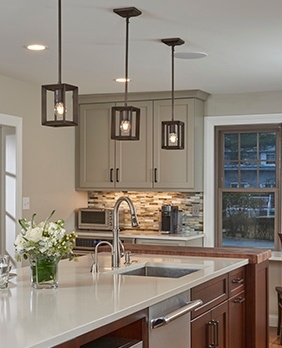 Undermount sinks don't have an exposed front that extends to the cabinet below like farmhouse sinks. All four sides are underneath the countertop, like with the stainless steel sink on the right.
Both types of sinks are popular options and it's a personal choice as far as which one is better for your kitchen style and space.
Farmhouse sinks offer no functional value over a standard undermount sink, but given the 10" - 12" depth of farmhouse sinks, you will lose some storage space in the cabinet below.
1. Countertop Drainboards
Regardless of the type of sink you choose, drainboards are becoming increasing more popular and are incredibly useful.
Drainboards are slightly recessed into the countertop next to one edge of the sink so that you can air dry the items that require hand washing. Drain grooves are another option for your countertop.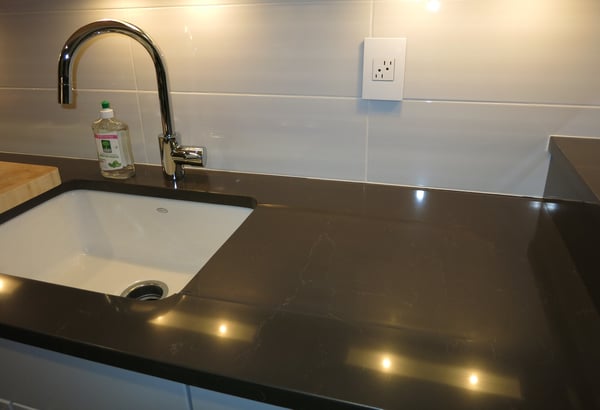 2. Built-In Cutting Boards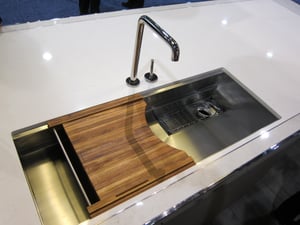 Similarly, sinks that have a built-in cutting board like the one on the right free up valuable countertop space and are an efficient way to prep food and clean up afterwards.
Over-the-sink or integrated cutting boards extend your work surface and act as a sink cover when necessary—hide those dirty dishes at a moment's notice! The boards may be made from various types of wood or food-grade plastic.
3. Convenient Access To Soap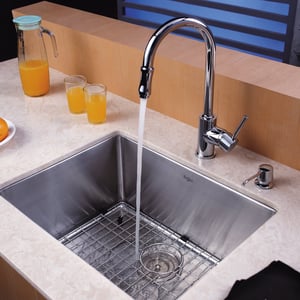 Now, let's take a look at some other accessories that can transform how workable your kitchen sink area is.
Built-in soap dispensers are an excellent option to keep the dishwashing soap bottle off the countertop (see right of faucet).
You'll no longer have to clean up the drips that always seem to accumulate under soap bottles, and it just makes your kitchen sink area look more organized. A good tip is to fill the dispenser with half soap and half water so that it doesn't get clogged.
4. Healthy Water On Tap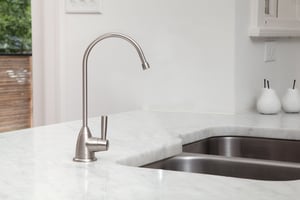 Built-in water filtration units are a fast-growing trend as people become more aware of the quality of their drinking water.
There are several good options for water-filtration units that will remove impurities like chlorine, limescale, and fluoride. These are easy to install, and the added benefit is vastly better tasting water.
5. Button-touch Disposal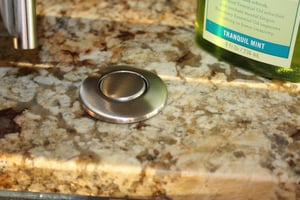 Also easy to install, air-powered garbage disposal buttons are an innovative solution for many homeowners' kitchen design.
Most of us are used to flipping an electrical switch on the wall next to the sink when we want to run the disposal, but what if your sink is on a kitchen island or peninsula?
Air powered disposal buttons are perfect for sinks that aren't located near a wall where an electrical switch can't be installed. These disposals use air pressure instead of electricity to activate the unit.
You simply push a button that's mounted on the countertop near the kitchen sink. That button sends a pulse of air towards the power control unit, which then turns on the disposer. To turn the garbage disposal off, you just press the button again.


6. Under Sink Organization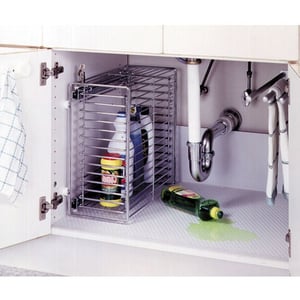 Now, let's talk about that part of the kitchen sink area that makes most of us grimace and groan—the cabinet under the sink.
This storage space is usually cluttered with cleaners and sponges. All too often the cleaners get knocked over and spills make a mess or even stain the floor of the cabinet.
Plastic, easy-to-clean sink mats protect the bottom of the cabinet from spills and stains. To keep the space even more tidy, consider using a cleaner caddy. The caddy keeps the cleaners upright and contained, and can be easily pulled out so that you can use the cleaners in other areas of your home.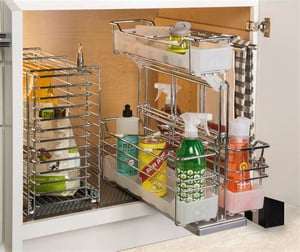 It's exciting how many new options there are today for creating a more workable kitchen sink area, and the beauty of these innovative solutions is that they can be customized for any kitchen.
What kitchen sink features do you dream of incorporating? We'd be happy to talk with you about them. Take advantage of our free consultation and estimate by contacting us online or calling (781) 238-8800.