Last month, I attended KBIS, the Kitchen & Bath Industry Show at the Orange County Convention Center, in Orlando. Combined with IBS, the International Builders Show, there was 600 exhibitors with 2100 displays, within 2,100,000 square feet! Attended by 100,000 people, the show reveals the latest products and trends from kitchen & bath brands.
Here is what I saw for the upcoming trends: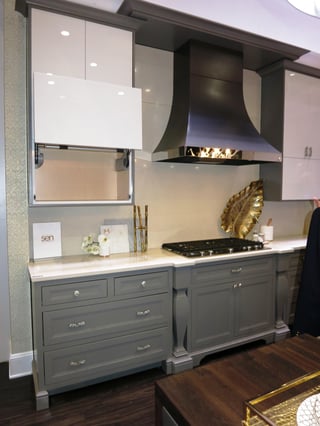 Multiple Finishes:
While this kitchen is still white & grey, the white is a high gloss finish, and the grey is darker in color. The freestanding hood is black and gold; 2 metal finishes that were seen throughout the show. The cooktop countertop has quartz, while the island is using a warmer wood. Color is coming back to interiors!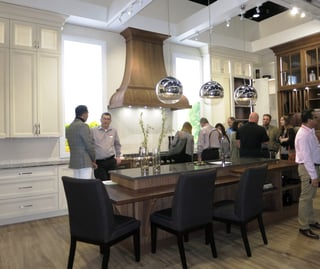 Multiple finishes, Large island:
This kitchen has white cabinets that are warmed up with the freestanding wood hood, wood island and wood pantry wall. The large island is multi-height with a multiple countertop finishes. These chairs are at table height, instead of the usual counter height. This is an option to consider for your multi-generational family's kitchen.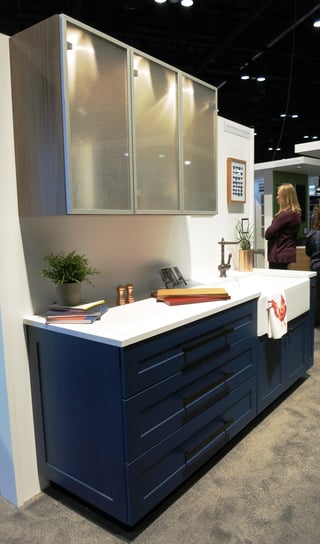 Mix of Styles, Finishes, Metals and a Color:
The traditional farmhouse sink and faucet, transitional Shaker door style was combined with the contemporary semi-opaque glass doors. The base cabinets are painted dark blue topped with white quartz and the wood upper cabinets; another example of the multiple finish trend. Blues and more recently greens colors are being used for cabinetry. The long handles are black metal and the the glass doors are stainless. Quite alot going on with this display, but I think they pulled it off.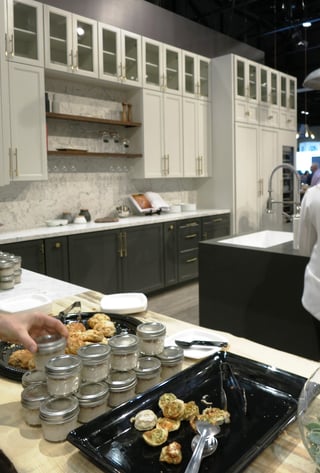 Updated White Kitchen:
While this design started like a typical white Shaker kitchen from the past, there are some current trends within this display. These include the base cabinets that are a charcoal grey stain; the gold decorative hardware and the wood that was added as open shelves. The Shaker door looks more modern with the lack of crown moldings. The countertop and backsplash are quartz material. Read more about quartz here.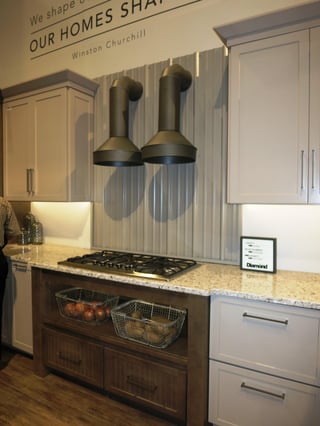 Looks Like Eurocuchina:
This Diamond Cabinetry display had mixed finishes with the painted Shaker doors with the stained wood for the cooktop cabinet. The double black metal hoods and metal backsplash reminded me of the look coming from last April's Eurocuchina Show.
More Quartz Countertops:
Yes, there are even more colors coming for us! It seems the manufacturers are trying to perfect the marble look. This Calacatta from Zodiaq looked fantastic!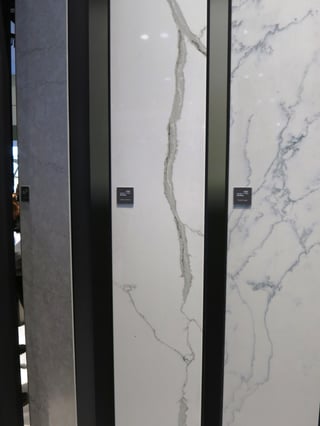 Here is another quartz, this time a concrete look alike. Having once installed a concrete countertop about 15 years ago, I am happy to see this more durable alternative.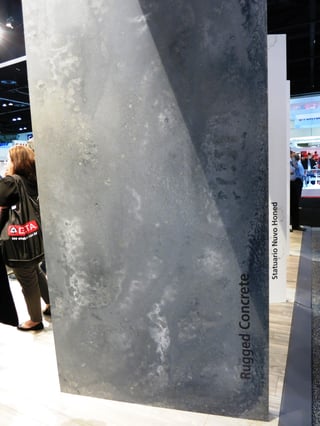 Are you excited for these new trends? How do you like the mix of finishes? If you need help designing your new kitchen, please feel free to contact us!