There are mainly 2 products that cabinets are made from: plywood or particle board. I am always being asked which one is better.
Particle board is a composite sheet material made by combining wood particles with glue and then heated and pressed into sheets. It can be covered with wood veneer, melamine or laminate.
Particle board products are classified by their particle size and overall density; some particle board is stronger than others.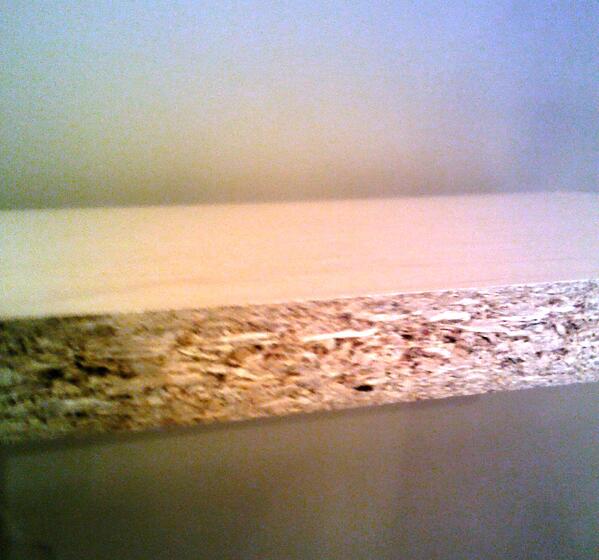 Particle board end panel
Many companies use particle board because it lowers production costs. It is claimed to be more stable. However, particle board cabinets state on their warranty that the shelves must be flipped every 5 years to prevent sagging.
Studies show that homeowners only adjust their shelves once during the life time of their kitchen, right when the installation is complete and you are putting your items into your new cabinets.
Particle board cabinets will not hold up well with water. At a minimum, your sink base cabinet and vanity cabinets should be plywood. I have seen damage at particle board cabinets caused from the heat of a stove, oven and the steam of a dishwasher.
Clients with particle board cabinets typically replace their cabinets with plywood. European cabinetry is typically particle board, as they do not use their limited trees for cabinetry. Their particle board is a heavy density, not the medium density particle board in the US.
Plywood is made from veneers of wood glued into layers forming sheets. Like particle board, this product comes in different thicknesses and varying qualities.
On the low-end of the scale, softwoods, quick dry glues, and voids can be often found between the layers.
This plywood is often coated with a plastic that has a wood grain pattern applied because the wood they use isn't very attractive and may not finish well. The types of wood used often aren't ideal because they shrink and grow too much with changes in humidity.
This causes the plywood to be unstable (cracks, warps, delaminates, etc.). This version of plywood seems to be another poor choice for fabricating cabinets.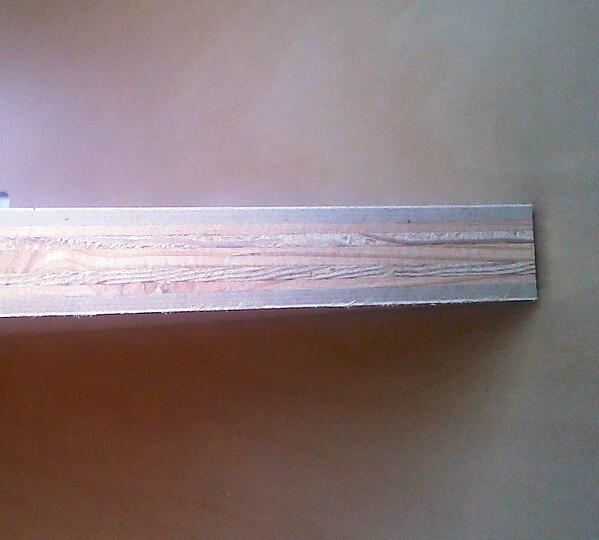 Plywood end panel
The higher priced plywood has inner layers that are formed without voids, hard wood is used, slow drying water-resistant glues hold it together, and the exterior is an attractive real wood.
If you examine the edge of the plywood you will NOT see spongy wood or voids and you can easily see the layers of hardwood forming the material. The better made plywood holds fasteners well, readily absorb glues, and seems to be nearly indestructible when used in cabinet construction.
When the layers are arranged so that the wood grain run in opposing directions, the plywood seems to be highly resistant to warping and more stable than solid wood.
In my experience I have yet to see a quality plywood cabinet degrade in the field. Plywood cabinets are my preferred choice.
Do you have a preference for cabinetry materials? Not sure which to use? Ask me!