Most of us wouldn't know what to do without our kitchen pantry! In fact, I am often asked to design one into a client's new space, which can be created alongside a mudroom or powder room. Even though kitchen designs are trending larger, pantries are still crucial to modern homeowners, and the purpose of today's kitchen pantry reflects the origins of this unique storage space.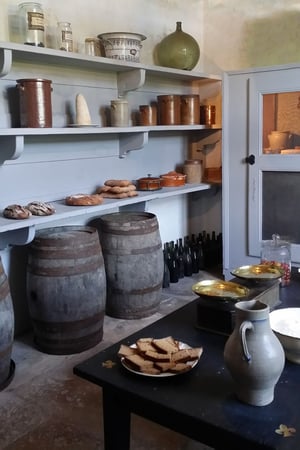 The word pantry originates from the medieval French word paneterie, which loosely translates as 'bread sack.' In medieval times, manors and castles had small rooms known as 'offices' near the kitchen for specific foods and supplies. Each of those offices had a person with the title 'head of office' in charge.
Any food preparation that involved bread was done in the pantry and the head of office in charge was called a pantler. Meats were stored and prepared in a separate room called a larder. Alcohol was stored in another room called a buttery, which is a term derived from the beer barrels, or 'butts', that were stored there.
Then, in the 19th century, a butler's pantry became a popular concept in England and America. The butler's pantry was a small room between the kitchen and dining room where utility items like silverware and plates were stored. Some butler's pantries had a desk so that the butler could manage household duties, and some even had a cot so the butler could sleep in the pantry and protect the silverware from thieves.
With the 20th century's advances in refrigeration, pantries were mostly used for storing the growing selection of canned or boxed foods. By the 1960's, most pantries had been reduced to a floor-to-ceiling cabinet, but today we've come full circle back to the walk-in butler pantry concept. In fact, a walk-in pantry is one of the most requested features in kitchen design today, and there are some brilliant storage solutions for just about any pantry.
Countertop Options
I like walk-in pantries with wrap-around shelving. Taking advantage of all the walls will maximize storage. This can be used for bulk shopping, or that vast selection of small appliances. Whether for appliances or food items, floor-to-ceiling shelving maximizes the storage space of even the smallest pantry.

The shelving can be designed to include countertop space, which is fantastic for packing kids' lunches. You could even add electrical outlets and put your coffee-maker, toaster oven, or crock pot on the pantry's countertop. An area can be created to hold a phone charging station. These solutions would eliminate clutter on kitchen counters and free up valuable space.

Appliance Storage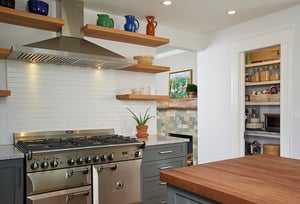 Storing small appliances in the pantry is much more convenient, especially if you have been being storing them elsewhere, like in the basement. Perfect space for that quesadilla maker! In addition to storing a large number of small appliances, I have installed double ovens inside a walk-in pantry. Since food cooks in an oven for longer periods of time, it is not inconvenient to use a pantry for baking and roasting. This helps you maintain your countertop space in your kitchen.
Sinks & Refrigerators
Some pantries have a small sink for a wet bar or additional serving area while entertaining. Perhaps a dishwasher that has a gentle cycle for china can be added. Other pantries even have a small refrigerator for extra food storage, or a wine fridge.
Check out my Pinterest board for more kitchen pantry storage solutions, and take a peek at some of Edesia's award-winning kitchen designs on our website. If you'd like to incorporate a walk-in pantry into your kitchen design, or if you're contemplating redesigning your kitchen, I would be happy to talk with you! Take advantage of our free consultation and estimate by contacting us online or calling (781) 238-8800.