Mudrooms
With the winter arrival here in New England, the mudroom has taken center stage. Who wants to come home to an area dumped with coats, boots, gloves, umbrellas and backpacks everywhere? This space needs to help get the kids and yourself out the door with an orderly exit and reentry. While this is a utilitarian space, it can still be attractive.
This mudroom, which is a small hallway off the garage, was that depressing. A few hooks held the coats and backpacks. Shoes and boots piled up on the floor. The cubbies were filled with hats and gloves and there was no bench to sit at for putting on & removing shoes. Since it could be viewed from the kitchen, the homeowner decided that improving this area was a priority before the start of this winter.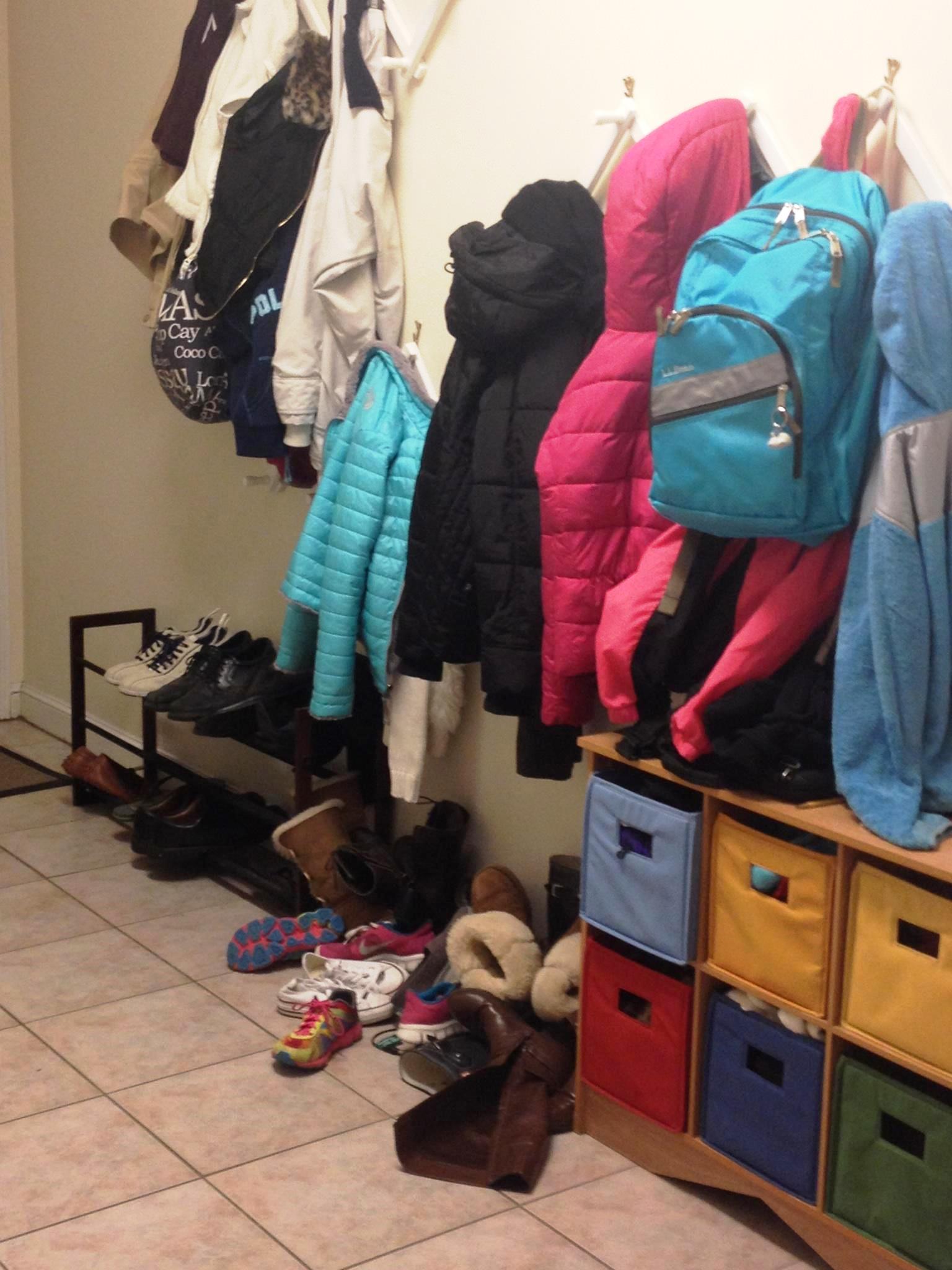 This mudroom space needed a better storage solution.
The new space includes tall cabinetry with interior hooks for coats and back packs. The bench seating works for putting on & removing shoes. The pullout drawers below hold the shoes and boots. The upper cabinetry is for less used items. Additional hooks to the side hold the wet coats.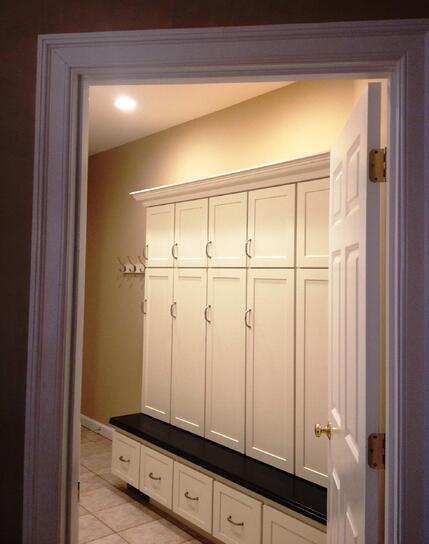 The finished mudroom is well organized for the family.
Here is another mudroom, with open cabinetry instead of the closed cabinetry. Items are easily viewed, so this mudroom will work if your storage needs are this minimum. The boots can stay on the floor and will dry quickly with a radiant heat flooring system. The open cubbies above contain storage baskets, which can hold the scarves and gloves.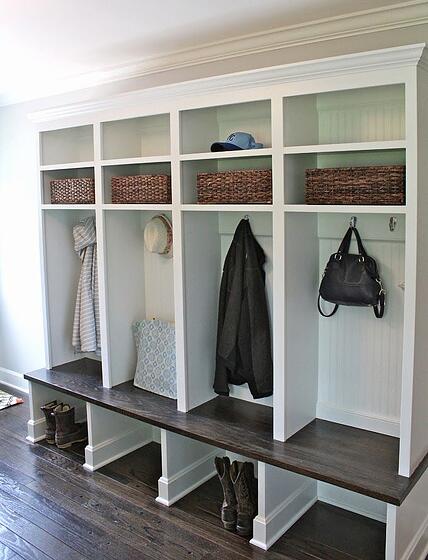 This open concept mudroom is easily constructed out of end panels.
If you are planning your own mudroom, there are several items to consider. First, mudrooms need to have the right flooring. Flooring that can handle the wet items, such as a tile or slate. A low maintenance floor that wont stain should be considered. The hooks should be mounted at heights for the kids to reach, so they can get their own backpacks and hang their own coats. The space should also be heated, so you aren't putting on a cold coat or boots to venture outside.
Additional storage items to consider include sports equipment. Are you looking to store skis, football gear or lacrosse sticks? Large baskets can hold these items upright. There are even hooks that can hold basketballs!
Do you have pets? Large dog crates are often not planned for and can fit nicely in the mudroom for when they are needed. Pet supplies, such as the extra large bin of food, and brushes can be kept here as well. A hook on the wall is the perfect spot to hold the leashes and the dog towel if you use this door for your walks.
Whether you have a small hallway space or a larger room, a mudroom can keep the entry way clean as guests may also use this door. As you start to plan this space, consider how many people are using it. Do you need space for back packs? Skis? Pet supplies? Mudrooms can also hold the recycle bins, and the washer & dryer.

Do you need help planning your mudroom? Give us a call, we are here for you.