Pantry cabinet design helps to maximize the space for dry food storage. I have been in many pre-renovated homes and have found food in all different cabinets through out the kitchen and hallway. Placing all the food in one pantry cabinet will streamline the entire meal making process. There are several options available, depeding on your layout: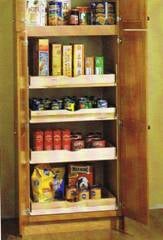 A most basic & popular option - this wide double door pantry with height adjustable roll outs will work for most families. This pantry cabinet is typically located on the end of a cabinet run, next to the fridge. To save on money and space, turn the cabinet sideways, reduce the depth to 12" and remove the rollouts; perfect for a small family or empty nesters.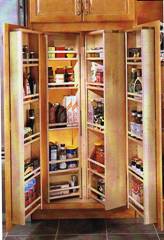 This pantry cabinet always gets rave reviews in showrooms. Honestly, the multiple storage racks are cumbersome, and it is difficult to see what is on the shelves in the back. It can not fully open when placed next to an appliance. The piano hinges can fail over time.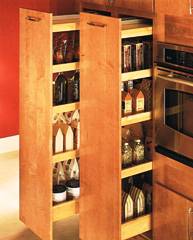 This tall pullout pantry cabinet is perfect for the last cabinet up against a wall, when you can only access the items from one side. The shelves are typically height adjustable and can be made of either wood or metal for a more contemporary kitchen.
When deciding your future food storage, did you know that foods can lose their nutritional value over time? Most oils and spices have a shelf life of 6 months; the antioxidants lose their potency. Check out this site for how to stock your own pantry:
http://whatscookingamerica.net/Q-A/Pantry.htm
With these ingredients on hand, you will have no problem cooking for unexpected company or a snow day. After all, isn't that the reason you renovated your kitchen?
How do you store your food? Do you have a pantry cabinet? What are the best features?
If you need help trying to find space for a pantry with your new kitchen layout, feel free to contact us today.