When most people picture their dream kitchen, they might think of dark, sleek cabinetry or beautiful granite counters. Or maybe they salivate over the thought of stainless steel appliances and subway tile. Everyone has a different idea of how they want their kitchen to look - but most of these dreams include a kitchen island and with good reason. Kitchen islands add so much to a kitchen: more counter space, more storage, better flow, and visual interest.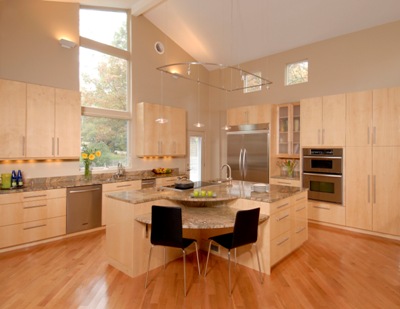 This island accommodates table height seating, and blocks the view of the cooktop and prep sink. Islands don't need to be a rectangle!

More Counter Space

Our kitchen counters can quickly get littered with various appliances, including a toaster, a dish-drying rack, and if you're like me, a huge espresso machine. All this "extra stuff" can clutter up the kitchen and give us less counter space to do our prepping and cooking on. A kitchen island gives us just that extra space that we need.

You could also extend the countertop just a little more over the base so you have room for bar stools. That would give you more eating space in your house and maybe you'll find less crumbs all over the living room sofa.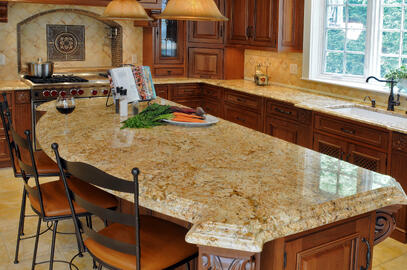 Without an appliance, this island is perfect for homework, food prep and buffet styled dinner parties.
More Storage

Many kitchen islands come with lots of storage in the form of drawers and cabinets. This will also help us reduce the clutter on our countertops - we can just stash our extra appliances in the cabinets and take them out when needed.

Better Flow

When we're cooking, we move around the kitchen a lot - from the refrigerator to the sink to the counter and back again. In U-shaped and L-shaped kitchens, a kitchen island will improve the flow in the room and help you cook more efficiently. Your walking distance between your work centers will be shorter. If you have other people or kids in the house, they can walk around the kitchen island and avoid getting all tangled up with you. It is very useful for a multiple cook kitchen.

In houses with open plans, kitchen islands provide a barrier between the kitchen and the living room, leading to a better flow of traffic between the two rooms.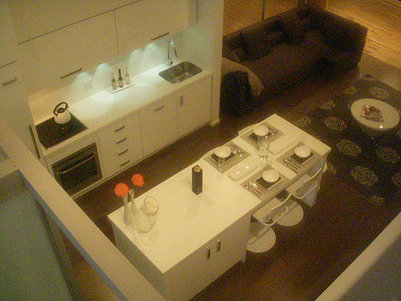 This island has seating for 4. The placement for these stools makes for an enjoyable conversation over dinner.

Visual Interest

There's no denying that a kitchen island can add lots of beauty and character to a kitchen. You can really have fun with a kitchen island - paint the cabinets a different color or go with a different counter top to draw attention to it. The options are limitless.

A final tip - get a kitchen island that fits your kitchen perfectly. Even small kitchens can benefit from a kitchen island. Just be sure that you have at least 42 inches of walk space all around the island so it won't be in your way when you're running around trying to cook a big dinner for your family.