A client's Victorian kitchen faucet needed replacement once the original faucet valve broke, well before it's time. Finish and accessories for the 3 holes previously drilled into the granite dictated the selection process.
Selected: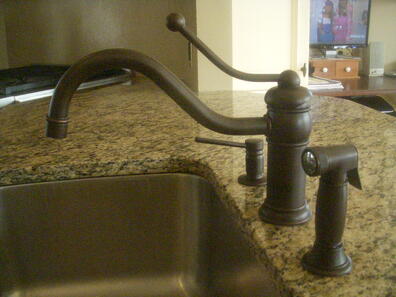 Sigma single lever handle with side spray and soap dispenser in Antique Bronze is an example of Victorian Kitchen Faucets.
Features of this faucet:
Gooseneck faucet is high enough for large stock pots. The pot can rest on the countertop will its fills.
Side spray - pulls out, fully retracts.
Soap dispenser - keeps the bottle off the counter. Fill with 1/2 dish soap and 1/2 water to keep it from clogging.
Lifetime warranty on 1/4 turn ceramic disc cartridge
5 year warranty on product & finish
30 finishes available
Arrived in 4 weeks, 1 week ahead of schedule, even during the holidays.
Future Plumbing Wish List:
Air push button for garbage disposal - having a peninsula sink means either a batch feed garbage disposal, or reaching under the sink for the switch to operate continuous feed. Pushing the air switch allows for easier operation. Unfortunately, this is currently being manufactured in chrome and stainless finishes from a few manufacturers.
Water filtration system. Now knowing the 40% of bottled spring water is actually tap water, as well as the recycle bin getting filled with these plastic bottles, we are searching for a solution. These filters don't remove the chlorine and fluoride, and we prefer a whole system for cleaner showering water as well.
What features are you considering for your kitchen faucet? What finish have you chosen?