Banquettes have been built in many of my kitchen designs, mostly due to the space they save because unlike a kitchen table, you do not need walk space all around it. This isn't a new idea, banquettes are available at most restaurants. Most diners prefer them, and typically only sit at the tables once the booths are filled. This will be the same feeling in your home.
Kitchen banquette designs include tables that are 30" high, table height seating, perfect for when you don't want to use the dining room but want to sit more comfortably that at an island.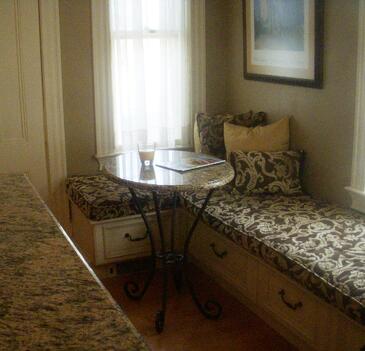 This backless banquette allowed the tall Victorian windows to remain, keeping the exterior aesthetics in tact.
When planning for a kitchen banquette, keep the following design features in mind:
Design features:
should be able to exit from 2 sides
beware of the table legs
avoid sharp edges
plan to hold a seat cushion in the space
a back should have a slight angle
cushions should be extra firm to bounce back up
fabric should be stain treated or even consider using an exterior grade fabric
storage can be added underneath
These window seat drawers hold a potatoe ricer, salad spinner, French press coffee maker and additional corning ware. Without these drawers, these needed but seldom used small appliances would get lost on basement shelves.
I would recommend against a glass table if you have a dog. Could you really enjoy your meal while looking down at stray dog hair?
Are you planning on seating in your kitchen? Are you sticking with a traditional table or planning for a banquette? Contact us today to help you with your design process.