Congratulations! Upon deciding to remodel your home, the endless kitchen options start appearing. With your home being your single largest investment in your lifetime, you want to carefully consider all of your options. You may not have examined your own or others' kitchens before this time. Cabinetry accounts for 38% of your projects budget, and is the most visible part of your kitchen. If you haven't already, 'Like Us' on Facebook to receive your free Kitchen Budgeting Form, by clicking the link below:
Once you have your kitchen design completed, it is time to first select your cabinets, then countertops. Cabinetry items that need to be considered include: Cabinetry Construction Levels, Cabinetry Construction Types, Cabinetry Materials, Cabinetry Overlay Styles, Cabinetry Door Styles, Cabinetry Woods, and Cabinetry Finishes. Let's start with the construction levels:

Cabinetry Construction Levels:

Stock cabinetry
• Mass produced , about 1200 cabinets per week
• May be readily available or available in 3 - 4 weeks
• Built in 3" width increments
• Modifications include some minor depth reductions
• May have a center style in larger wall cabinet sizes
• Can be a good buy, but choose a simple finish; stock cabinetry's strengths are speed and price
• Not many interior storage options. Your designer would buy these items after market (bought elsewhere) and be installed on site by your installer, so make sure he is talented and patient.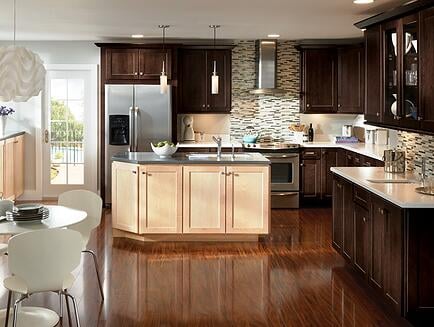 Armstrong Cabinetry, Trevant door style, Autumn Brown & Natural on Maple wood

Semi-custom
• This term that has now grown to include the majority of cabinetry currently being produced.
• Can handle more modifications, but they are pricey
• Larger selection of finish options and door selections
• Many companies are running special pricing promotions, this provides excellent value*
• Typically delivered in 4 - 6 weeks.
• Many storage solutions available, such as a cell phone charging station and dog bowls built into a toe kick drawer.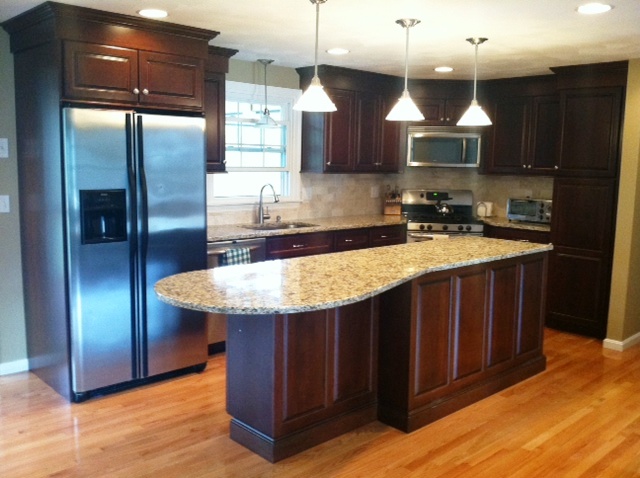 Great Northern Cabinetry, Independence door style, Mahogany on Cherry wood
Custom
• Seriously, this is the best made cabinetry type
• Specializes in custom panels, different cutouts on a single face frame or detailed accent pieces
• Finishes and door styles are their specialty. There is a balance between having an idea of what you are looking for and an open mind. The endless choices may overwhelm you.
• Many companies are running special pricing promotions, this provides excellent value*
• The interior storage accessories are custom made, wood inserts that can make yours a dream kitchen.
• Lead times run 6-8 weeks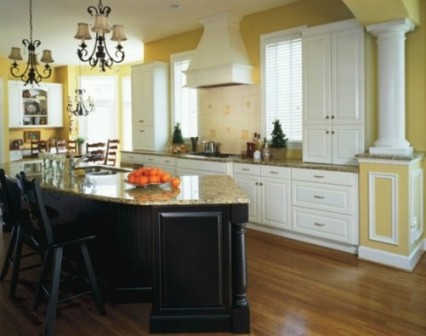 Holiday Kitchens, Lancaster door style, Painted White and Black on Maple
*For the special pricing offers, make sure you are clear on the deadline as these offers change monthly.
What construction level are you comfortable with? What are your preferences?

For more information, contact us today!