These photos are comparing 2 different styles of bathroom cabinets and vanities. Both have drawers, a seated make up area, mirrors and a sink. There are design elements that make these 2 vanities look completely different.
These bathroom cabinets and vanities have a traditional look for the following reasons: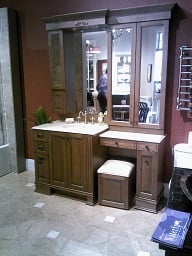 The vanity has a traditional raised panel door style, with traditional handles and knobs. The baseboard wraps around the base of the cabinets. There is a marble top with an under mount sink and traditional faucet. The crown molding wrapping both wall cabinets and the central mirror, with a decorative appliqué in the center. The small cabinet to the right holds a swing down clothing hamper with a cloth liner.
These bathroom cabinets and vanities have a contemporary look for the following reasons: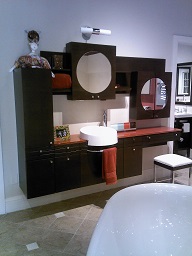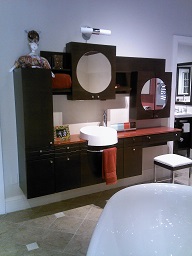 This vanity doesn't go to the floor; it is wall mounted. The absence of baseboard and crown molding is a contemporary look. The door style is a flat slab with simple chrome knobs. The acrylic counter top wraps a semi-recessed mounted vessel bowl tall with a tall single lever faucet The different wall cabinet heights wrap around the wall paneling system.
If using a stone counter top, metal brackets mounted inside the vanity would be necessary to hold this vanity to the wall.
Need help with your bathroom layout or materials? Feel free to conact us, we will walk you thru the endless finish choices!