I recently received a request for a concrete countertop kitchen in a residential home. When you are tired of the standard granite, solid surface or quartz options, the unique qualities of concrete tops could be an option for you.

Concrete countertops are made up of cement, aggregates, fiber reinforcement, and additives with reinforcement to strengthen these countertops, such as structural steel, wire mesh, fiberglass. They have high strength, are stain and scratch resistant, low maintenance and are lighter in weight than granite. However, they cost more due to the custom work, requiring high technical and artistic skills.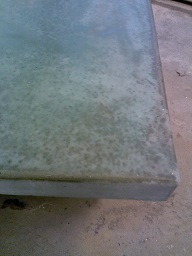 Acid washed concrete top for a kitchen
Countertops are templated, similar to granite, then pre-cast in a shop. Custom shapes can easily be accommodated with under mount sinks, drain boards, and cutting boards. There is also a wide assortment of colors and textures available. Stain brushed on top, stain mixed into the concrete, or an acid wash for a custom color, with a matte or glossy finish.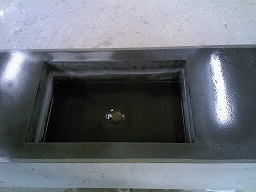 Concrete countertop with a sink for an outdoor kitchen

Additionally objects like recycled glass can be embedded and back-lit for further artistic effects. Another option is to imprint or stamp the concrete with patterns. Concrete countertops are always sealed, and need to cure for several days after wards. Properly sealed counters are then virtually maintenance free, unlike the necessary maintenance of sealing of the natural stones.

Concrete is considered a green material because it is an abundant raw material, durable, and there is minimal waste.

The standard price for a 1.5" thick countertops ranges between $80-$135. The price can vary depending on how much custom work is involved. But it is well worth considering if you want a unique and durable product that will last for many years to come.
Want more countertop information? Download our Countertop white paper: