We are in the planning stages of this bathroom remodel. Although this space is small, 5' x 8', we have much planned for it. With this wish list, this bath needs to be detailed. Located right off the bedroom, this bathroom did not have the spa look or feel that most people desire.
Existing Bath - Not exactly the spa feel
Here is what we have planned:
Floors & Walls:
I suggest starting with the tile decision for a bathroom remodel. There is a wide variety of the tiles, and it will set the style and the project lead time. We considered porcelain vs ceramic tile.
The floor can't be slippery, especially with the curbless shower drain system we are considering.
The 12" x 12" porcelain tile floor will be installed on the diagonal, to help make this narrow space feel bigger.
Proposed Porcelain tile
Shower:
Steam showers have become popular. Benefits from use include clearer skin and stress relief. The cost of the motor is $1800-2000. Price is based on 2 factors: the proximity of the motor to the shower should be kept under 10' for a less expensive motor and the motor needs to be stronger to heat the solid porcelain over standard ceramic tile.
A Proline drain system will eliminate the need for the curb, a potential tripping hazard as we age. It will also make the space feel bigger, with a continuous diagonal tile floor throughout the room.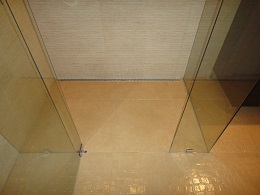 Sloped tile and drain system eliminates the need for a curb.
A bench will be added.
An adjustable hand spray to cool off your feet while steaming and for ease in cleaning the shower.
Shower glass door with a fixed glass panel. There are several types of glass to select and hinge style. Add the clear coat for the glass as it will cut down on maintenance from soap film.
Fixed shower head options include a rain head or standard spray. A rain head is mounted either from the ceiling or on an extension arm and will provide an all over water spray. A standard spray will offer more direct pressure.
The original request for body sprays was eliminated. To allow all water sources to work at once, there needs to be separate individual controls for each one. It looked too cluttered for the client.
Recessed shower niches will be built in and tiled over to organize the different soaps and shampoos.
Shower niche is a fiberglass unit, built in between the studs, keep the shower tidy.
Plumbing Fixtures:
The new toilets use only 1.4 gallons, as opposed to the existing 5 gallon flush. The base can be skirted for easier cleaning. Elongated bowl works best for adults.
Sink options include a pedestal sink, built in vanity sink or a wall mount vanity. Pedestal sinks do not offer storage, and usually small amounts of countertop space, making it best for a powder room.
The largest vanity for this space is 36", at the 36" height.
More details:
Overhead lighting and make up lighting needs to be planned
The ceiling will be opened up for a cathedral, with a ceiling fan
Towel bars, towel warmers - these items need to be located early for added blocking in the walls.
Built in medicine cabinet. This model offers a built in television.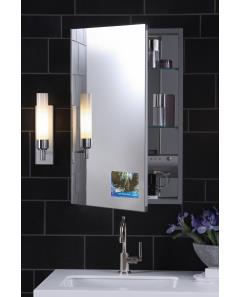 Every kitchen has a planned space for a tv, but is it needed in a bath?
What must be in your new bathroom?
Tell us what you need and we will plan it for you!