When making the final kitchen selections, typically cabinetry hardware, most clients are 'decisioned out'. There have been so many choices made along the way, the mere thought of looking at the thousands of choices is too much. However, it's an easy project when you know about the different styles and finishes of knobs and handles. Understanding all these elements will help you find cabinetry hardware that fits your room and personal style.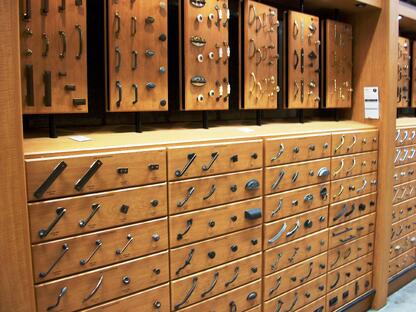 Get an idea of what you like before walking into this many choices!

First, get familiar with the different styles of knobs and handles. Generally speaking, the four most common styles are architectural, vintage, classic and modern. Choosing which style to use makes your decision process easier.

Most knobs and handles match most architectural styles. This provides you ease in matching existing design elements with your choice of cabinetry hardware. Knobs and handles that correspond with your room's architectural style give you a sharp and crisp look.

In today's economy, retro or vintage hardware is trending big. These knobs and handles update styles from long ago. The result is an elegant and striking looking room.

The classic style of cabinetry hardware will also give your room a strong and elegant look. The classic style is a simple look that'll give your room a long lasting vibrance. Examples of the classic style include cup handles, angular handles and oval knobs.

The modern style of knobs and handles ranges from contemporary and transitional to whimsical. Examples of the modern include elongated handles, geometric knobs, artisan glass and creative shapes. The modern style will give your room a warm and welcoming feel.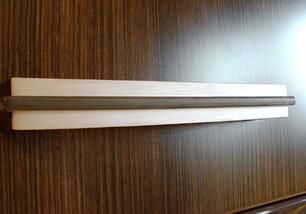 Long stainless pulls for a contemporary look

After you're familiar with the styles of cabinetry hardware, you'll need to understand their finishes. The most common finishes are distressed, hammered, matte, oil rubbed, polished and satin. Each finish has a large variety of options that fits all individual tastes.

If you're looking for a slightly used look, then a distressed finish will work. Scratches and dents are used as designed elements. The result is a classic look and feel.

For a art and craft look, try a hammered finish. The knobs and handles have wide or narrow indentations that give them a slightly battered look. You'll see hammered finishes mostly in cup pulls.

When considering a matte finish, don't let its dull and plain look fool you. This finish is used with brass, chrome and copper hardware that adds elegance to your room. The modern style works well with a matte finish.

When you want a robust elegant look, an oil rubbed finish works best. Bronze is the material mostly used with oil rub finishes. Both knobs and handles can be bought in an oil rub bronze finish.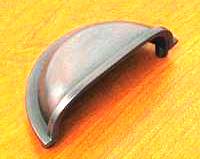 Oil rubbed bronze bin pull

To give your room luster and a sharp look, use knobs and handles with a polished finish. The materials used with polished finishes include, brass, chrome, nickel and stainless steel. If your project involves a bathroom or bar, polished cabinet hardware is a good fit.

Finally, a satin finish dresses up any room for a stunning look. You can find satin finishes used with pewter, nickel, brass, chrome and stainless steel. This finish is easy to maintain, so it's perfect for busy homeowners.

Now that you're familiar with the different styles and finishes of cabinet hardware, here are a few things to remember. First, pick a style and finish that will complement your room. Also, streamlined, sleek tubular or rectangle handles work well with a modern room.

Keep in mind too that you can vary hardware styles as long as you use the same finish. Oil rubbed finishes work well with painted and wood cabinets. Matching your cabinet hardware is a good start, but not necessary.