Kitchen tables have been part of American culture for decades; some of us remember the nightly meat and potato dinner ready at 5:30pm. While the style of cooking has mostly changed along with our life style, the concept of everyone getting together once during the day remains. A kitchen table is a great place for dinner for these early summer nights, when the sports programs have wound down and the days have become longer. When choosing your kitchen table, consider these kitchen table options: a freestanding table or a table mounted from an island.

Freestanding Table Option:
As a free standing piece of furniture, such as this pedestal table, works best for banquette seating to get in and out of the seating area.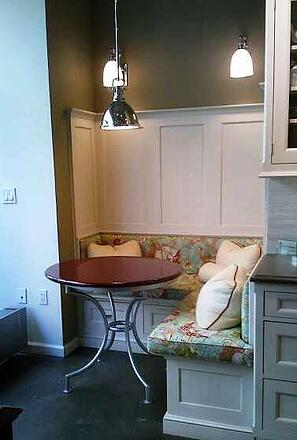 Pedestal bases can be made of wood or metal. This table is made of resin with a back beveled stone top.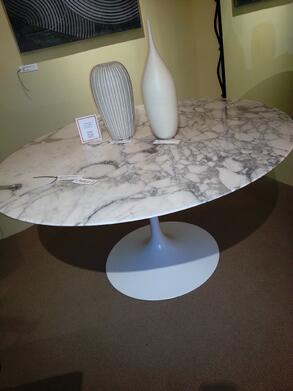 Larger rectangular tables can be made with simple legs or a trestle base. Trending now is the use of other objects for the table base. Check out this table using old machinery used as a base with a glass top: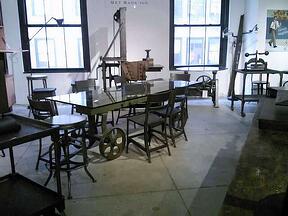 A table mounted off an island, using corbels, legs or full side panels to support the table top. This is a great solution is you do not have the space for a table and island seating and prefer to eat at a table, vs. a counter. Connecting to the island saves requiring additional aisle space.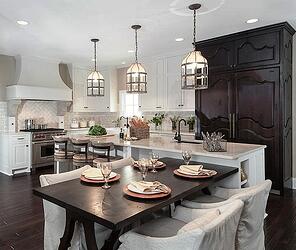 Table Top Options:
Stone: For durability, you can use the same stone as your kitchen countertops. Check to see if there is enough material left from the slabs you bought. While durable, these tables will be heavy to move the table to clean the floor and its cold to rest your elbows when reading the morning paper or Ipad.

Glass: A glass top provides an elegant look, providing a lighter feel and eliminating an extra
color decision. But it is not for you if it is typically covered in finger prints!

Wood: Wood table tops offer a variety of wood types, edges, thicknesses and even patterns. Can be cut to any shape. The prices and lead time can vary greatly. This is a mahogany butcher block top: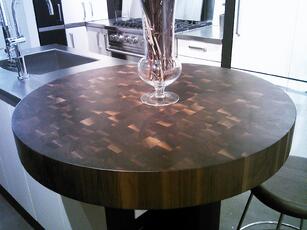 When choosing your kitchen table, be realistic about your life style. Choose something to add to your design, with little maintenance, so you can enjoy your family time together.
Have a specific question? Ask us! We are here to help.