Ever need to wash your hands after making meatballs? Ask your kids to brush their teeth and they leave the water running? Then a touchless faucet is for you! A touchless faucet, also referred to as smart touch technology or motion sense faucet, as we have first seen in public restrooms, is now available for residential use.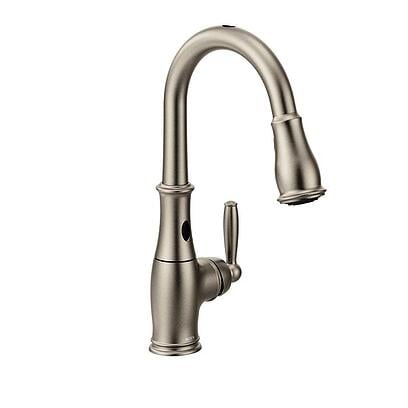 Moen Brantford with Motionsense

There are several benefits for this faucet, including stopping the spread of germs that are on the faucet, since you never touch it. Sticky hands will no longer get the faucet dirty; there will be less clean up. You can also enjoy the same water conservation as the commercial applications with the automatic shut off after 4 minutes of uninterrupted running water.
Touchless faucets are also about convenience, not unlike having a remote control vs. getting up to change the television channel. By using the sensor, there will be less wear and tear on the faucet cartridge. There is also a safety feature. The temperature and volume of water remains from when you last used the faucet, so kids cant get burned.

When reviewing this faucet, there are 2 types. You can either tap the faucet to run the water or run your hands across a sensor. Either is powered by battery or a/c power. There is also a touchless soap dispenser to complete the design. Look for an over ride switch to fill a large stock pot.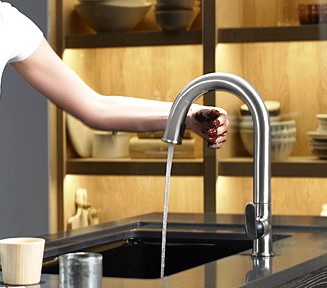 Kohler Sensate Touchless Faucet


As a new feature, the styles and finishes are limited. Due to wider demand and limited stock, we are currently waiting on a faucet that is on backorder for another 3 weeks. So plan ahead!
Looking to upgrade the plumbing fixtures in your kitchen or bath? Contact us today - we are here to help you!