Cabinets are the first thing you see when entering a kitchen. If you want to express your design style, consider adding glass doors to your kitchen cabinetry. Between the design styles of the cabinetry doors and the glass types available, you will be able to find a combination that will give you a personalized look.
A common complaint that I hear about having glass doors, is about the keeping the interior contents of the cabinets clean & organized, This should not be a concern, as glasses and dishes stack neatly. Adding glass doors would not make sense with a pantry cabinet or broom closet!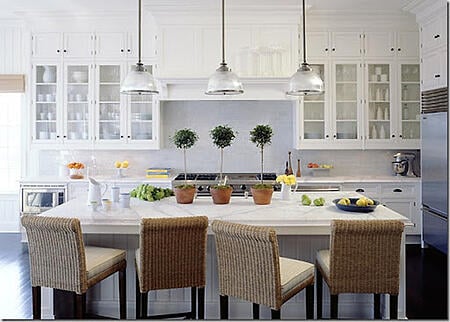 Clear glass Shaker cabinetry doors
There are many glass door design styles. A single opening can work with a Shaker door; mullions are for a more traditional look. The shelves should align with mullions, but make sure you are not limiting your shelf space with too many mullions, or taller items may no longer fit. Other design styles include prairie style mullions, arched mullions, double arched mullions, and cross shaped mullions.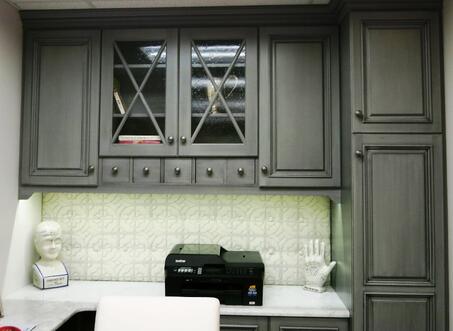 Cross shaped mullions with seedy glass
The glass types are almost endless: colored, geometric, antique (looks like hand blown), seedy, opaque, & chicken wire. Frosted glass can work for a more contemporary styled kitchen, especially with a white cabinet interior. This offers less of a view of the cabinetry interior. Leaded glass doors can be made to match details of the home. Reeded glass, glass with uniform ridges, can be installed horizontally or vertically, depending on the other design elements. Lattice can be added for an old fashioned look.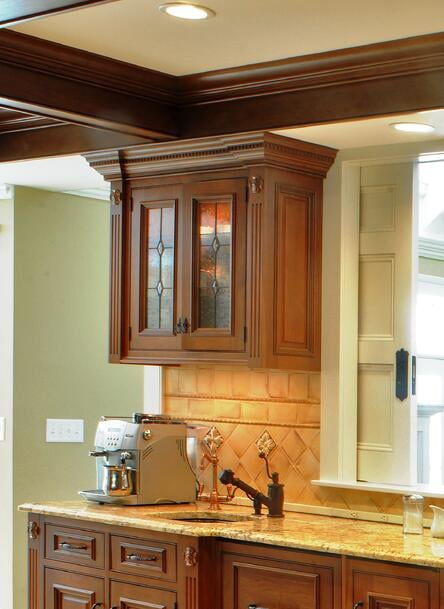 Leaded glass doors with antique glass
Other factors to consider:
-If you are going to light the cabinetry interior, be sure to order glass shelves,
preferably 3/8" thick, with finished edges.

-Glass doors can also be used for base cabinets, such as at the ends on an island. This glass must be tempered safety glass.

-Glass panes are held into the door frame by retainer clips or clear silicone caulking. Both methods work well, but the caulking is most effective against the glass rattling.

-If your cabinetry has the soft close hinges or 180 degree hinges, be aware that you may be able to see these through the glass.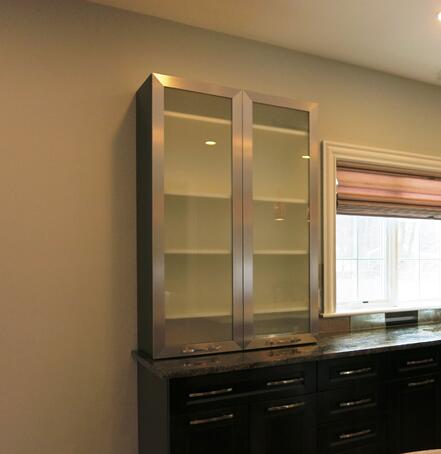 For a modern/contemporary look, opt for stainless doors with frosted glass.
Looking to update your kitchen? Give us a call, we are here to help you!