Why install a pot filler?


Pot fillers have been gaining popularity, for both their practical and attractive features. But what are they? They are a wall or deck mounted faucet, to bring you water at a spot other than by a sink; specifically, at the cooktop. This plumbing piece makes pots easy to fill, with the water source close to the point of use. Not walking around your kitchen to your sink will save you time.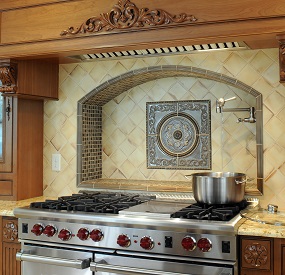 Mounted on the side of a niche, this pot filler folds flat and out of your way!
There are 2 types of pot fillers: Deck mounted & wall mounted. Deck mounted pot fillers are easier to install, the plumbing is located under countertops, and installs like a traditional faucet. Wall mounted pot fillers won't take up counter space, but are harder to retro fit. Pot fillers have a high flow rate, using a single 1/2" cold water supply line. They fold flat against the wall when not in use.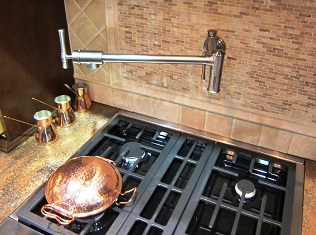 Think about placement - Are you left handed? Do you need water access from
all burners? Are you planning a decorative back splash?
Pot fillers are a fashion statement, especially for the foodie. Offered with a traditional and a contemporary look, you can find pot fillers in up to 26 different finishes, most popular include brushed stainless & chrome. Handle options include a wheel, metal lever, ceramic lever, cross handle; with a straight body or a curve. Some can extend 26" off the wall and most are reasonably priced.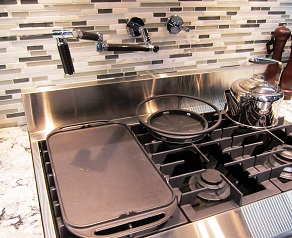 Contemporary pot filler with a separate handle.
Cons of the pot fillers include not overfilling the pot, because you still have to carry it back to sink to drain. There is no drain to catch leaks. It also needs to be cleaned, especially if you use an indoor grill.


Are you interested in a pot filler? If so, contact us - we are here to help you!