---
We recently finished adding this En suite bath in a 1880 Victorian home. Houses this old started with outhouses in the back yard, and eventually had a single indoor 5' x 7' bath installed. Today's families want quite a bit more from their baths, both in quantity and in style!
This unused room had been used for a toy room and then for storage from the previous owner. With the doorway located off the hall, the room had limited uses. The clients wanted a master bath that was clean, fully functional and in keeping with their older home.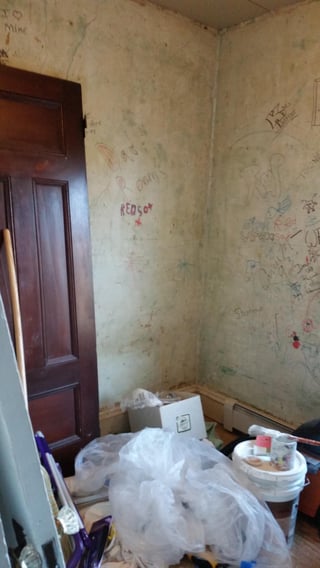 The original space was completly wasted.
We started by flipping the bathroom door from the hallway to their bedroom. The fixtures were arranged to be away from an existing wondow.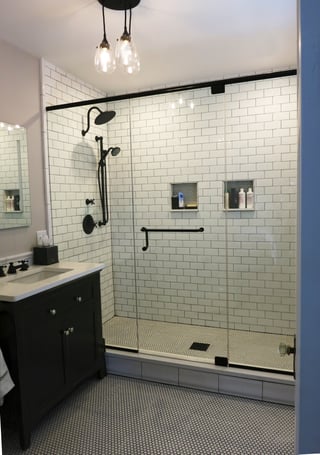 Completed en suite bathroom
The #1 request with bath remodels, is to increase the size of the shower. This shower is 3' x 7'6". The specialty rain head is the most requested fixture for a shower. The body spray makes it easy to shower without washing your hair, and to clean the shower. Two shower niches were built in for shampoo storage, instead of using cheap plastic racks.
Classic bathroom features include the period style tile and plumbing fixtures. White subway tile was used for the shower wallls and wainscot around the room, with tile chair rail and baseboard. White penny round tile was used for the floor. All the plumbing has a black matt finish, and is made by Newport Brass. I especially like the decorative shower drain.
Cluster pendants have a great look for this space. A centered light fixture was typical for old houses. but don't provide enough light for bathroom grooming use. We added a built in medicine cabinet that has LED strip lighting, along with an interior electrical outlt and USB port. A black furniture looking vanity also provided storage. The white quartz countertops and stain proof grout help to eliminate some of the maintenance issues of a bathroom. A ventilation fan was also added.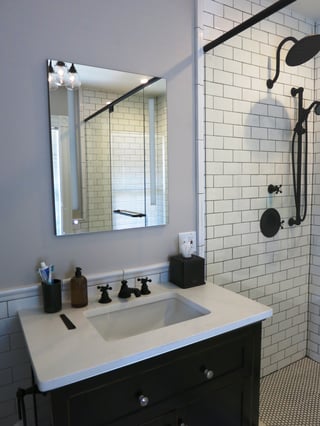 This built in medicine cabinet has external LED lighting strips for grooming needs.
Is it time to renovate your bathroom? Let's us help you enlarge your space and bring you the latest bathroom comforts.