Kitchen Backsplash Trends 2015
Kitchen design involves many aspects -- appliances, countertops, flooring -- but perhaps the most defining part of kitchen design is the backsplash. Often used as a focal point in the kitchen, the backsplash has the potential to become a work of art rather than just a filler between the countertop and cabinets or above the stove.
The best place to make a statement in your backsplash design is the area between the stove and the hood. Though the area typically measures around two to three feet across, in some kitchens the area can be rather large, creating a blank canvas for back splash tile design.
If you'd like to make a dramatic impression in this area, you might choose to use a combination of tile types (including glass, porcelain and stone) in a unique pattern, or opt for a softer design by blending the color of your countertops into the design of your backsplash.

Types of kitchen back splash tile

Choosing the right tile type is also important. Though there are many types of tile available, installation, aesthetics and upkeep are all variable. For example, traditional glass tile is not only versatile in design, but is also very easy to maintain (provided, of course, that the grout is high quality). On the down side, glass tile can be difficult to install or repair in the event of damage.
Stone tile is another popular choice for the backsplash and for good reason; stone offers a natural-looking texture that is incomparable to other tile types. It can be used alone to create an authentic, outdoors appeal, or used in conjunction with other tile types to create a unique texture and design. One drawback to using stone is the potentially porous surface, but that can be remedied with proper sealant.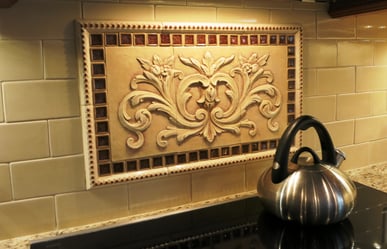 Porcelain subway tiles with a hand cast insert and glass tile mosiacs.
Marble backsplashes offer the best of both worlds by combining the ease of maintenance with the beauty of natural stone. Used together with matching countertops, marble backsplash tile can create a cohesive appeal with a beautifully unique finish.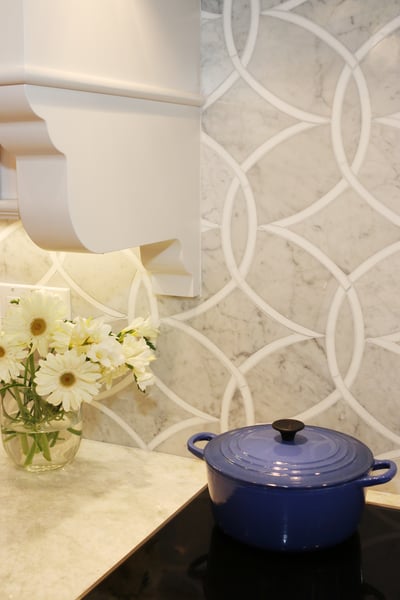 Marble mosiac backsplash paired with Quartzite countertops
Of all the features you can add to your kitchen, the backsplash might be the most fun. That's because the backsplash offers the most opportunity to be creative. Whether choosing a basic subway tile pattern or a more elaborate patterned design, your backsplash may well be a guest's first impression of your home, so make it a good one.

This 2015, let your creative side take the reigns as you design the best backsplash for your
kitchen.

For more information about our backsplash designs, visit our website or contact us to learn more.