Cooking for two can be a bit tricky if your kitchen lacks working space. You both need space to prepare, eat and entertain together. Whether you're a foodie who can rival the talents of a gourmet chef, or your partner's a social butterfly always entertaining guests, chances are you're likely to literally step on each others' toes without adequate work space. This Melrose kitchen renovation faced that space challenge.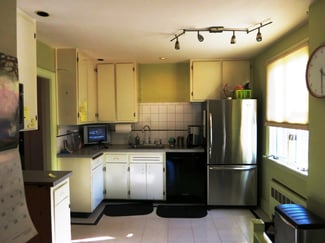 With limited storage and countertop space, this kitchen was long over due for a renovation.
Removing the partition between the kitchen and dining room opened up the kitchen in this Victorian home. The cooktop area included a separate cooktop and oven below the countertop.
Here are some of our design ideas for this renovation that opened up the room and gained space for the couple:
The Open-Plan Kitchen
Opening up a closed kitchen by removing a load bearing wall is ideal for creating a more spacious look. This will connect your dining room with your kitchen, enabling you to communicate effortlessly with friends and family when entertaining. It will also allow more natural light to flow from your kitchen into your dining area or vice versa.
Add a Peninsula
A peninsula is essentially a kitchen island that's linked to a wall, providing both a dining area and a working space. They are especially ideal when there is not enough room for a freestanding kitchen island. Placing the sink in the new peninsula allowed the client to talk with guests while prepping. A cutting board was notched around the quartz countertops. The client chose quartz countertops for their durability and for their color selection. This client was not a fan of the varied colors found in natural stone.
Portable Islands on Wheels
These convenient kitchen must-haves on casters are multi-functional. Impress your guests when you use it as a wine rack or trolley for all your decadent cuisine. Some trolleys can even be used as a mini-bar station. Islands are almost always used as an extra working space for food preparation and if this is your primary need, consider a butcher block countertop. This would be ideal when used as a chopping surface. Add a knife block and spice racks on the side of your portable island for added convenience when cooking. If storage is what you want most from your island, simply opt for one with doors that will provide lots of cabinet space.A natural stone backsplash, stainless handles and plank tile flooring completed the renovation. This island has a natural walnut top added.
Kitchens that do not maximize their current space, make it near impossible for couples to be as efficient as they could be. We at Edesia Kitchen and Bath Studio understand how important convenience and efficiency is in your kitchen. We provide excellent cabinetry designs tailored to your individual needs. Contact us today for a consultation.