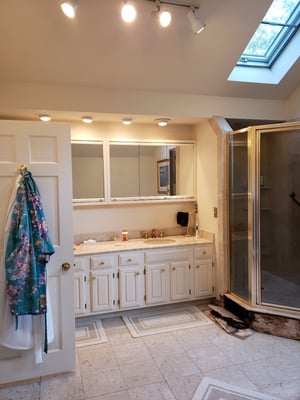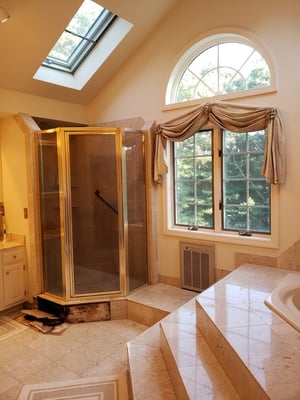 When you're athletically driven enough to compete in triathlons, it's also a smart investment to be just as dedicated to pampering those sore muscles after workouts and races. Such is the case for an amazing couple in Weston who spend much of their spare time training for and participating in triathlons.
However, the master bathroom in their home was on its proverbial last leg. In fact, the bathroom space was functional at best, but it came nowhere close to offering a spa-like experience the homeowners could relax in.
First of all, the layout of the master bathroom was outdated and awkward. The shower was small and the aging tile had been falling apart, which was creating water damage. Meanwhile, the old-fashioned platform bathtub with marble steps took up a disproportionate amount of space, particularly since the couple rarely used it.
The bathroom's vanity had been built to previous standards when countertops were just 32" high. Standard vanity countertops today are 36" high, which provides less back strain, easier access, and more storage space underneath.
Speaking of storage, the old vanity was shortened to make room for the small, corner shower unit, so it had limited countertop and cabinet space. Plus, it didn't have pull-out drawers, which many contemporary bathrooms incorporate for convenience. The current linen closet was located down the hall.
Functional Changes
The couple had two overarching goals for their master bathroom—revamp both the functional design and the aesthetics of the bathroom space.
To make the master bathroom feel more spacious, luxurious, and organized, renovation changes included:
Moving the shower so that it could be much larger.
Replacing the huge corner bathtub with a streamlined, stand-alone tub near the center window.
Installing a longer vanity with higher countertops.
Adding tall linen storage cabinets at each end of the vanity for storage of towels above and built-in hampers below.
Incorporating a center pullout drawer for a hairdryer.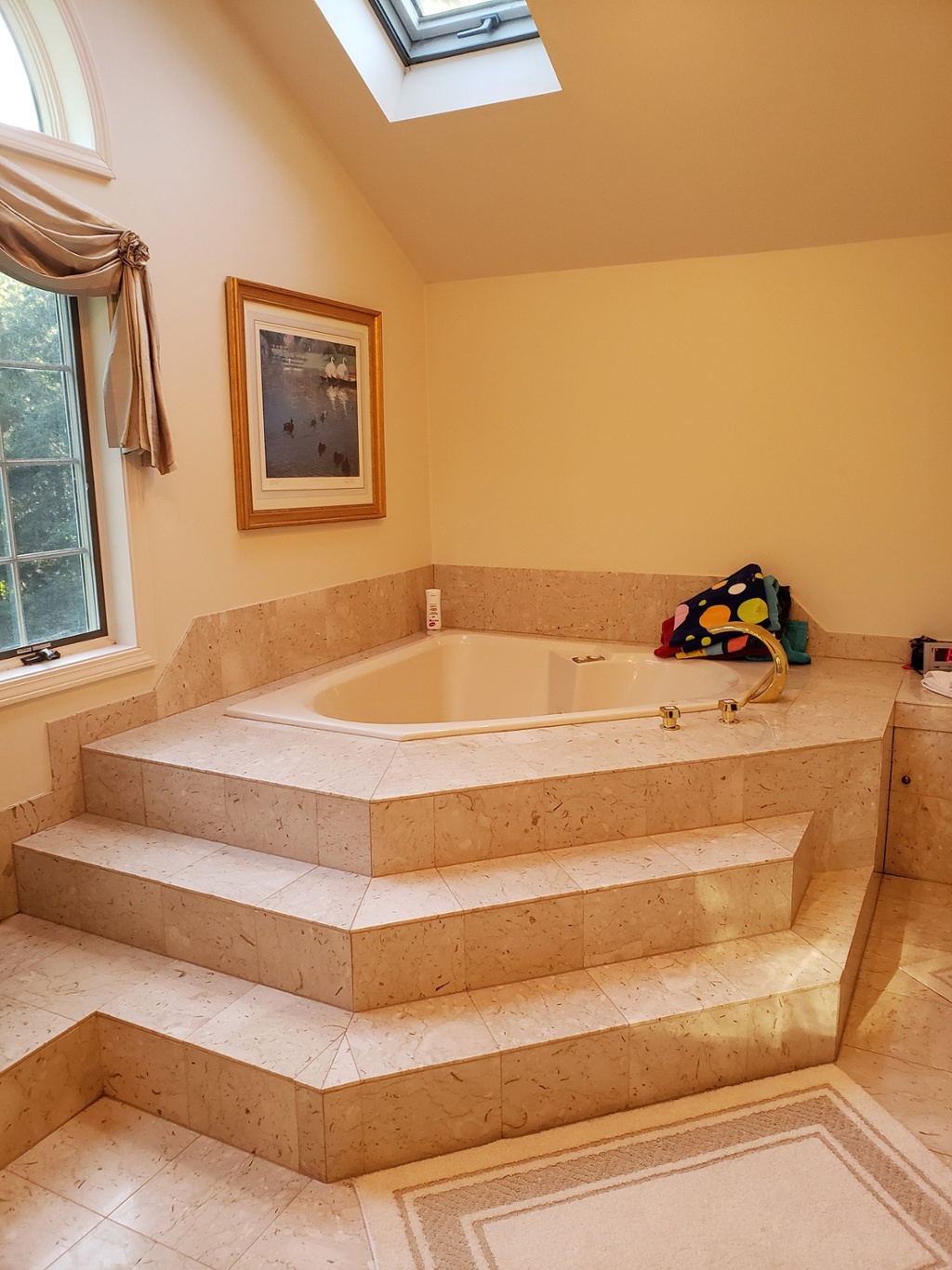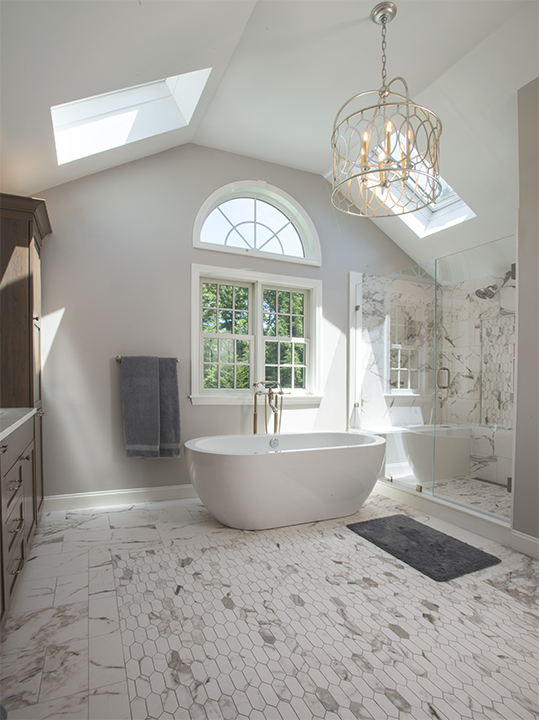 Aesthetic Appeal Changes
Even through the old bathroom had two skylights and a decent-size arched window, the room still felt dingy. The ceiling track lighting essentially just collected dust and contributed very little directed light that was actually useful. And the pink-toned marble flooring and off-white cabinetry with exposed hinges definitely belonged back in the 1980s.
In order to create a simple look that was both attractive and durable, the bathroom redesign included:
Heated flooring and shower—great for sore muscles and cold winter mornings!—with a brighter, more sophisticated pattern of white and gray tiles.
An enlarged shower with clear glass doors, heated bench seat, and double shower heads.
A rich wood vanity that creates warmth, plus eliminates the maintenance issues of paint.
A simple yet statement-piece pendant light to make the room "pretty" as requested.
Dimmable, inviting sconces flanking double sinks and medicine cabinets.
The full redesign of all functional and cosmetic elements of the master bathroom culminated in making the homeowners feel like an essential part of their home has been completely revived. Now, whether they're home after a tiring day at work or after a long run, swim, or bike ride as they train for the next triathlon, they know that pampering spa-like relaxation is ready and waiting.
Are you curious about how a bathroom redesign might refresh your home? If you're considering renovating your bathroom, your kitchen, or both, we'd be happy to talk with you. Edesia Kitchen & Bath Studio is a Best Of Houzz award winner for client satisfaction in 2017, 2018, and 2019. Take advantage of our free consultation and estimate by contacting us online or calling 781.238.8800.