Perhaps you want to remodel your kitchen to gain storage space, but not is just not the time. My friend, Eileen, from Simplify by Eileen, has several suggestions for you in her guest blog:
Maximizing Space in Kitchens and Baths (it's there, just waiting to be found!)
I guarantee that there is easily 25% more usable space available in your home than you can see. It just takes looking at your space through a slightly different lens. Here's what I mean:
You can significantly increase your kitchen cabinet space by using some simple and creative tools. For the lids of pots and pans there are some really neat, and inexpensive vertical racks that you can put in your cabinet to reduce the space needed to store them. There are riser shelves and Lazy Susans of many different sizes that you can put into your cupboards to help store cans and spices etc. It will amaze you how much new usable space you create, and the items are now accessible and visible! Even in kitchen drawers there are some really clever dividers, racks, and bins that really help corral items like Tupperware (it seems to breed in those drawers!!) and maximize your space. There is a lot of these specialty kitchen space saving ideas, and for very affordable prices.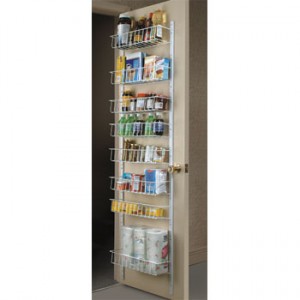 If you have pantry doors that open like a regular door, instead of a pantry cabinet, the inside of that door is just ripe to be used! For organizing a pantry, there are inexpensive over the door shoe organizers (ranging from $10 - $15) that can be used for much more than shoes. Think snacks, foil/wraps/bags, dry goods, light bulbs, cleaning products, even vitamins and supplements! For something more sturdy or customized, there are great coated wire solutions that are more sturdy and can either attach over the door or with screws. Take advantage of that dead space on the inside of your pantry door and put it to use.
Bathrooms present another challenge as they are often small, narrow rooms. One way to maximize your space in a narrow bathroom is to Think Vertical! Utilize floating shelves, or even a more structured shelving unit. Even if its narrow it can be a great way to give items a neat, organized home. Having some attractive and functional storage containers can actually compliment the room and be used as design elements.
Capture that unused space that is all around you and put it to good use. Just takes a little ingenuity and some of the right products, and you'll be in business!
For advice with your kitchen & remodeling project and kitchen cabinet ideas, Contact Us today!