Today, all kitchens have a planned seating area. During or shortly after your project is complete, you will be in the market for a kitchen bar stool or counter seating. With hundreds of choices available – how do you select the right seating for you? Kitchen bar and counter seating can depend on several factors including: desired height, style and comfort, and even whether or not you have children.
Here are a few tips to finding just the right seating for your kitchen.
What height do you need?
Does your new kitchen have a banquette, an island or a bar top?
-Table height is 30" and require seats that are 18" high. This height is needed for banquettes too.
-Island and counter heights are 36", and require seating that is 24" high.
-Bar height is 42" high and require seating that is 30" high.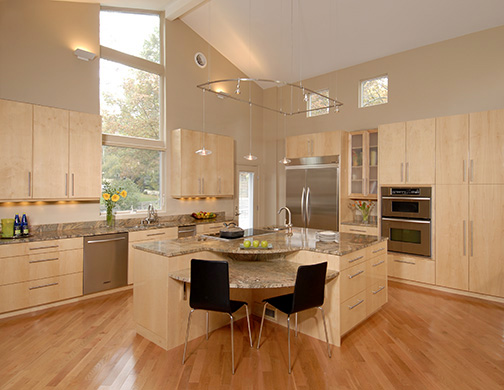 These clients preferred table seating to eat meals. The counter top was dropped to accommodate this request.
Think about legroom. The ideal countertop overhang is about 10 – 12" so the back surface doesn't get kicked. Allow 24" for width in between each chair for optimum comfort. Choosing adjustable height bar stools, including swivel, can also serve everyone in the family, especially your children.
Choosing an adjustable stool is a great way to make sure you and your children will be comfortable. Bar stool designs can easily be adjusted to the comfort, height and size of everyone, including guests. Bar stools with foot-rests are especially helpful for kids or us height challenged individuals, so that feet aren't left dangling and kicking the base of the counter.
What style are you looking for?
There are several styles and comfort options when looking at bar stools and counter chairs. Are you looking for seating with low or high backs or backless models? There are also stools with arms, which are great for kids and adults alike.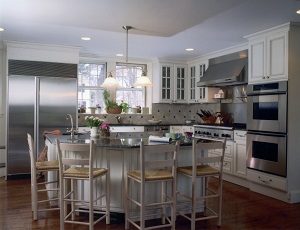 Simple counter stools for this 36" high island top and large family.

What kind of swivel are you looking for? Some stools swivel all the way around and others have a "memory swivel" or half swivel. Be careful in selecting a swivel bar stool for children as that might provide too much temptation for your child to spin on the stool, causing upset and possible injury.
Versatility is key
If you're looking for extra seating for company, choose a couple bar stools with a high backs and arms that ball game comfort. Do you enjoy leather seats and bright colors? Leather is easy to keep clean; add scotch guard to any upholstery. How about brushed metal frames? Your metal chair finish can match your hardware and faucet. There are bar stools that offer a pub-style for more of a bachelor feel and stools that offer fun eye-catching pastel shades for family kitchens.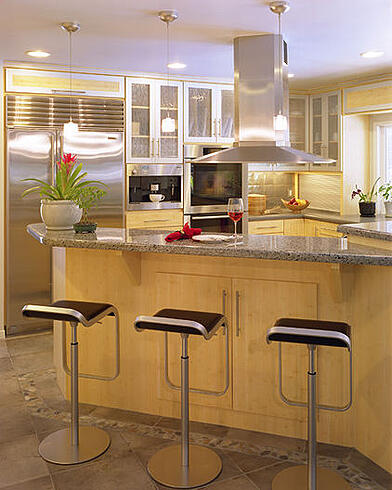 These adjustable height, contemporary bar stools work great for this 42" top.

Still having difficultly deciding? Contact us - we can help you!