Bathrooms are often the most overlooked part of a home. They tend to be small, cramped, or just plain.
But bathrooms are actually a great place to show off your personality and taste in design- you spend more time there than you think!
One of the best ways to create a more vibrant bathroom is by injecting some color. Here are five ways you can bring life to your bathroom.
Tiles
Patterned or monochrome tiles are a great way to add a pop of color and texture to your shower or bathroom wall. There are many kinds of tiles that are water-resistant and durable for a bathroom, and they come in all different colors and designs.
They can act as a stunning accent or a strong focus tying the entire bathroom color scheme together. Texture plays an important role in the feel of a bathroom as well- glossy tiles add sophistication and polish, while stone tiles create an earthy and relaxed atmosphere.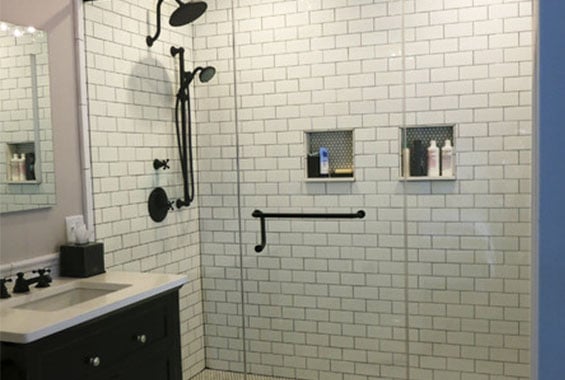 The best choice of color for bathroom tiles depends on the size of the room, brightness, and the color of the cabinets, walls, and counters.
Walls
It may seem intimidating to paint an entire bathroom wall a dark blue or vivid yellow, but vibrant colors actually look great in bathrooms. Dark and dense hued walls can make a space seem bigger and more luxurious.
Consider a navy blue or a seafoam green accent wall to add depth to the bathroom. If you prefer lighter colors, try a bright yellow, pale pink, or lavender. You can complete your color scheme with tiles or cabinetry that compliment the colors you choose. You can even add pattern to your walls with wallpaper.
Traditional wallpaper may not hold up well in bathrooms that retain moisture, so be sure to get wallpaper designed for high-humidity spaces. Wallpaper is a great way to add a personal touch and really showcase your style.
Cabinetry
Bathroom cabinets and vanities are a great place to add a pop of color. Choose a color that compliments your walls and shower tiles, and this will help you create a cohesive bathroom color scheme.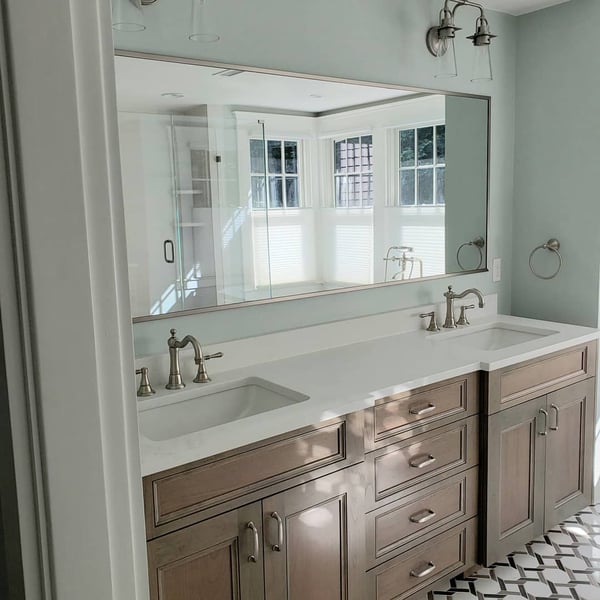 An olive-green toned cabinet will add an earthiness to your bathroom, while a pink cabinet could be a great contrast with darker walls or tiles. Monochrome cabinets will also help ground any patterns you've used in the rest of the space, whether in shower curtains, tiles, or wallpaper.
Don't be afraid to go bold and show off your cabinets as a focal point in the room.
Art
This is the most budget-friendly way of adding a touch of personality to your space. Whether you have framed posters, black and white photographs, statues, or paintings,
You can create a bathroom that represents your style. Use art to compliment colors you've chosen for your cabinets, walls, and tiles. Minimalist art on a white background, for example, will pop on a darker wall, and a rich, dense eighteenth-century painting will create a focal point on a white wall.
There are so many ways to bring art into a space, from gallery walls to standing statues. The best part is that art is easy enough to switch out and change up to represent the seasons, holidays, or just your own evolving sense of style.
Small Things
Towels, bathmats, and window treatments are just as important in a bathroom design as anything else.
These smaller items are a great way to bring bursts of color into a minimalist bathroom, or to contrast against vibrant walls and tiles. With so many affordable options to choose from, you'll be able to truly complete your dream bathroom with these little flourishes.
These ideas will help you create a colorful bathroom that truly represents you. For more ideas on bathroom remodeling, color schemes, and design, contact us for a consultation.