Renovating your kitchen is one of the biggest investments of your life. Why not accommodate it for all members of the family? Personalize your cabinetry with pet friendly features, such as food storage, bowl areas, spot for a bed, crates and gates for everyone's safety. Planning for these items strategically within the remodeling will not only save space, but will enhance the future appearance of the kitchen while preventing an obvious view of pet products.

A pull out trash bin can be used for food storage. Adding a tight lid it will keep the food fresh. Consider using motion sensors, or a foot pedal open for hands free operation. This idea will also keep the bag of food out of view and prevent it from getting in the way or taking up space.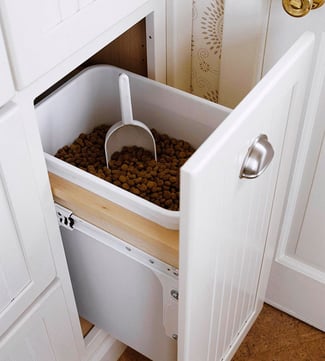 Food storage for you pet - out of sight and smell!
Tired of the water bowls being kicked? Consider adding them to the open end of a cabinet. An easy to wipe clean stainless steel bottom will keep the cabinet floor in tact. Your pets will have easy access to their bowls, and they are in an easy spot to refill.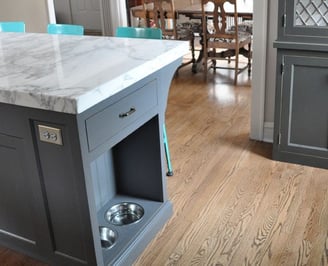 Water bowls are conveintly located at the open end of a cabinet.
More pet ideas to condsider include;
Is there space for a pet bed? Choose fabrics that are durable and easy to clean for the banquette and chairs.
Save a space for the crate or plan on gates across the room when the pet needs to be blocked out.
Determine where to best hide the liter box.
A pet sink and grooming area would work better in a Mudroom or Laundry room. Check out those blogs too!
Having a renovation done to your kitchen cabinetry allows you to create new and inventive ideas. Using a professional to input new cabinets and creative ideas that are most fitting to your home is easier to accomplish in a short amount of time with efficiency and accuracy with a company who has plenty of experience.
With more than 10 years of experience in architectural design and more than 18 years of designing kitchen and bathrooms, Edesia not only has the experience and knowledge, but the willingness to provide you with a kitchen that is personally designed to your needs. Reduce stress in your life with a well planned kitchen for your family. Pets are a part of the family and should have easy access to their needs too. Making an efficiently designed kitchen will allow for everyone to live more comfortably.