If you're considering remodeling your kitchen, choosing your cabinetry is one of the most important decisions that will affect how your kitchen feels and functions. Cabinets are the most visible part of your kitchen, and how they are built can make or break your kitchen remodel.

There are more than 1,600 cabinet manufacturers, so choosing cabinetry can become overwhelming pretty quickly. A good place to start is to determine whether your design and budget are in line with stock cabinetry, semi-custom cabinetry, or custom cabinetry.While many stock and semi-custom cabinets are good, custom cabinetry allows for many more options and personalization. When remodeling designs call for custom cabinetry, we turn to Dutch Made Custom Cabinetry. With Amish roots in Indiana, Dutch Made prides itself on creating the highest quality custom cabinetry, and we have never been disappointed.

The artisans at Dutch Made are always coming up with fresh options and techniques as well, such as a new wire brush technique that adds an "open grain" look and texture, as shown with the island below, which is part of our new display at the Clarke Showroom in Boston, MA.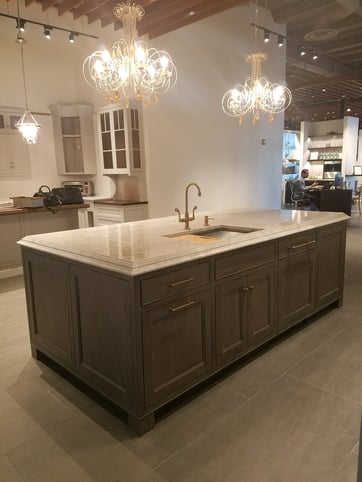 Dutch Made can craft cabinets in any wood species and any color. They have a wide variety of wood types, including mahogany and beech plus exotic veneers and laminates. Dutch Made can also match any finish, whether the color is from a paint chip, a tile, or a fabric sample. All finishes are applied carefully by hand.

One of the biggest benefits of Dutch Made custom cabinetry is that it can be built at just about any size, or it can be combined as one with custom face frames. The detail options are unlimited. Check out the built-in stops for inset cabinetry.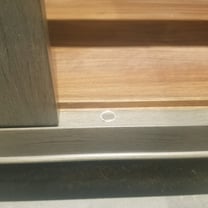 This detail is only available with custom cabinets. When combined with internal components built by Hafele, Kessebohmer and Richelie, the internal storage features are endless.

Dutch Made had an impressive display at the Kitchen & Bath Industry Show (KBIS) in Orlando earlier this year. Dutch Made's full overlay construction with end panels creates a sleek built-in look. The accessories in this cabinet were made out of walnut, which is an upgrade from the typical maple.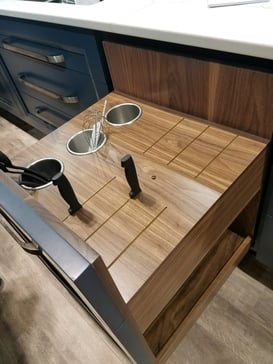 The blue painted cabinetry below shows off their 60 sheen gloss finish. Most companies paint cabinets with a 20 sheen, and that is your only option. Dutch Made can finish cabinets with a 10 flat sheen, standard 20, glossier 60 sheen and a high gloss sheen at 100.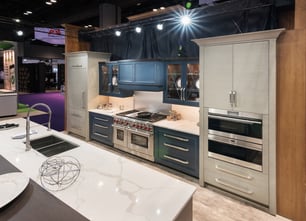 Dutch Made craftsmen can also curve wood in a custom piece, like the wood top for this island.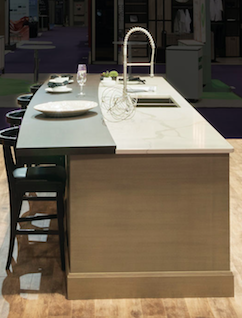 They can also make beams for your taller kitchen ceilings or create unexpected storage solutions. For example, the bookcase to the right of the mantel below is a sliding pocket door, perfect for pantries, or a secret closet.
Custom cabinetry provides the most personalized level of service for one of the biggest investments you'll make. If you live near Boston check out my custom cabinet display built by Dutch Made at the Clarke Showroom in Boston.

Live in Burlington, MA, or the surrounding Boston area? Contact us to learn more about our process or to schedule a free consultation.