Your cabinets play a large role in creating the first impression of your kitchen, and they can make or break the feel and function of the space. So what do you do when your kitchen cabinets are ugly, outdated, or damaged? Homeowners who want a new look for their kitchen cabinets typically consider two options—cabinet refacing or cabinet replacement.
What does "refacing" actually mean?
Refacing cabinets typically means installing new doors and drawer fronts on the existing cabinet frames to create a new look. However, some homeowners opt to reface their cabinets by refinishing or painting the existing cabinets and drawer fronts or by installing new veneers on top of the existing cabinet and drawer fronts.
When should I consider refacing my cabinetry instead of replacing it?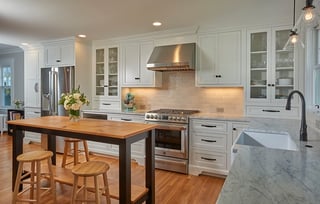 Refacing makes sense if you have two key factors in place—your cabinets are solidly constructed and you're pleased with the functionality of their space. If your cabinets are worn out or damaged, refacing only addresses the outward appearance and would likely be a temporary band-aid until you replace the cabinets. Likewise, If you don't like the usability of your cabinets, then refacing is most likely a waste of your renovation budget. Giving cabinets a fresh look may be satisfying initially, but it won't improve their usability. Plus, refacing cabinets is approximately 60% of the cost of new cabinets, which isn't as inexpensive as many people think.
When should I replace my kitchen cabinetry instead?
Cabinet replacement, on the other hand, opens up the potential to change the layout and functionality of your kitchen. Homeowners who opt for cabinet replacement often do so not only to improve the appearance of the kitchen but also to enhance how the designed space allows them to cook, entertain, and eat.
For example, redesigned kitchen cabinets may allow you to incorporate the latest storage styles and features, such as rollouts, door racks, tiered cutlery dividers, and tray dividers. You may also want to modernize the kitchen space design to include room for recycling bins and a small desk or nook for charging devices and menu planning.
How will functionality affect my decision to reface or replace my cabinetry?
How your cabinets function makes all the difference in how your kitchen works for your family, or how it doesn't. If there's nothing you'd like to change about how they currently serve your needs aside from their outward appearance, then refacing your kitchen cabinets may be your choice. And if your cabinets are solidly constructed and handle your storage needs but you're on a tighter budget, refacing is a less expensive option.
What should I do if I'm completely renovating my kitchen?
If you're ready for a complete overhaul and a kitchen that works better for your family, you'll likely want to consider cabinet replacement. Or, if you like some of your cabinets but not others you may want to consider a mix-and-match option where some cabinets are refaced while others are replaced. This can be a cost-saving option particularly for homeowners who, for example, want to keep original upper cabinet glass doors but replace the base cabinets to update usability.
Are you considering refacing or replacing your kitchen cabinets? What would you change about how they look and work for you? If you'd like to discuss possibilities, come talk to us!