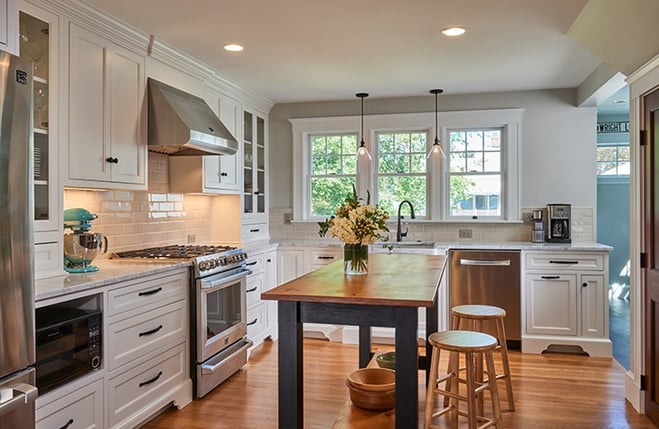 A new kitchen floor plan is the most exciting part of a complete kitchen remodel because it changes the flow of the entire home. While some people know exactly what kind of floor plan they want before calling their kitchen designer, most are still trying to figure out what kitchen floor plan will best fit their families and their lifestyles during our first in-home consultation and sometimes even afterwards.
When it comes to choosing a new kitchen floor plan, there are six major things to consider.
1. The Size of Your Home
Your home's square footage is the primary deciding factor when narrowing down kitchen floor plans. Space is a luxury, so if you live in a large home, you'll have as many floor plan options as your budget will allow. If you live in a smaller home, no need to worry. While your floor plan options may be more limited, a good kitchen designer will be able to make every inch of space both functional and beautiful.
2. The Size of Your Family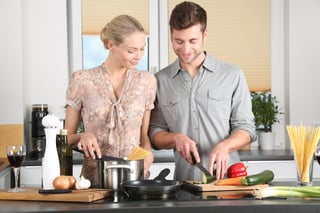 How many people find their way into your kitchen on a daily basis? How many people are usually packed in there at once? A kitchen that's home to you and your spouse and maybe a cat or two is going to require a much different floor plan than a kitchen that's home to you, your spouse, four children, two dogs, and your next door neighbor who likes to invite himself over when the game's on.
3. Your Family's Lifestyle
At Edesia, we believe your kitchen should work for you, meaning it should complement your lifestyle. You shouldn't have to adjust your life to fit around an inconvenient kitchen design. If you love to cook dinner as a family, you should be able to have enough countertop space for big chefs and little chefs. If you love to entertain, you should be able to create a guest list without worrying about how everyone is going to serve themselves in your cramped kitchen. So, when choosing a new kitchen floor plan, think about your family's needs and how you'd like to use your kitchen to create lifelong memories in your home.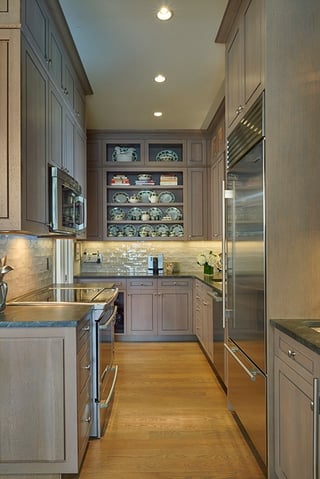 4. Cabinetry Storage & Countertop Space
This point goes hand-in-hand with both #2 and #3 above. The size of your family and your family's lifestyle will determine how much cabinetry you need for storage and how much countertop space you'll need, which will then determine the kitchen floor plan. Families of five or more typically need more of both, but we often see smaller families who love to cook and entertain requesting just as much.
5. Access to the Surrounding Area
Your new kitchen floor plan should improve your access to the areas you frequent in your kitchen and around your home, like the pantry, the dining room, and even outside. When your kitchen designer visits for your in-home consultation, be sure to walk her through your day-to-day routine so she can get a feel for the flow of your home. If you have a particular annoyance about your current kitchen layout (like if the pantry door always hits the countertops when it opens), voice it so that problem can be taken care of once and for all.
6. Sight Lines & Focal Points
How you will see the rest of your home when standing in the middle of your new floor plan is hard for most homeowners to envision, but it's incredibly important to think about when remodeling your kitchen. As part of the design process, your kitchen designer will give you a good idea of what to expect once your new kitchen layout is implemented with detailed drawings and an excellent verbal description of the space.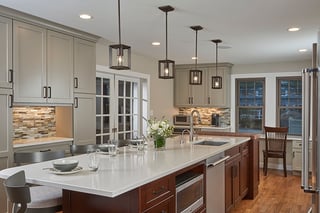 If you're thinking about remodeling your kitchen and expect to change the floor plan, make sure you consult a kitchen designer in addition to your general contractor. A kitchen designer will do more for you than just tell you what color backsplash tile goes best with a certain brand of cherry cabinetry, she will help you make fundamental decisions that can make or break your kitchen remodel.
Live in Burlington, MA or the surrounding area? Contact us to learn more about our process or to schedule a consultation.